Music Reviews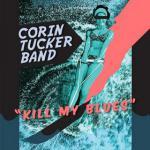 The Corin Tucker Band Kill My Blues
(Kill Rock Stars)
Buy it from Insound

It's now been seven years since Sleater-Kinney's phenomenal swansong and minor reinvention, The Woods, an adventurously noisy final move of one of the most reliably awesome indie-rock bands ever. Two years ago, frontwoman Corin Tucker returned with her self-described "middle-aged mom record", 1000 Years, a shaky step down from the intensity of her performances in Sleater-Kinney – but on her second outing with her eponymous band, it's immediately clear that she's prepared to rock out again. And who says middle-aged mums can't rock out?
She lasts half a verse before kicking into her inimitable upper-register yowl, acknowledging her lapse into domestic comfort before screaming "What's up y'all?! / I thought we had a plan / Gonna move things forward for us and women round the globe". Groundhog Day is one of the most memorable feminist anthems of the last few years, precisely because she worries about her own negligence within the movement before highlighting how much progress needs to be made: "Almost equal, almost good enough / Almost had a woman go and run the White House".
But after such a promising opener, I can't help but feel the next track Kill My Blues is a rather worn-out sentiment to provide an album title. Not that it's a bad song, but it fits in line with a common preconception of solo projects to which there are few exceptions – it's just not as iconic or enjoyable as anything by the band that made her famous. The Corin Tucker Band reminds me a lot of what happened to Pavement when Stephen Malkmus began his more reserved solo project with the Jicks. Any Pavement fan would be missing out if they didn't listen to Malkmus' solo output, (and the same must be said of Tucker), but it's difficult to imagine anyone actually preferring the solo stuff. To further the Jicks connection, Sleater-Kinney's drummer Janet Weiss was part of the band for a while, and the Jicks' Mike Clark plays bass on Kill My Blues.
The difference is that whereas Pavement also spawned Spiral Stairs' best-forgotten solo records with Preston School of Industry, Carrie Brownstein and Janet Weiss of Sleater-Kinney put out a terrific debut last year as the driving force behind Wild Flag, which indicates what's missing on Kill My Blues. Tucker's backing band are just satisfactory, rather than vital. For instance, Neskowin starts out strong, and Tucker's vocals are as wild as they've ever been, but what could have been a great ending instead fizzles out with an unremarkable solo and an unnecessary final chorus.
Tucker's lyrics are rather hit and miss too, the lowest point being Summer Jams, in which the verses suffer from a cramped rhyming structure which doesn't really allow her to say anything meaningful: "Can't last for long / But I'll sing you a song / You can hear it go on / As the sun is beginning to fade…" but when she bursts out with a belter of a chorus, all is pretty much forgiven. More intriguing is Constance, with its insecure hesitance towards optimism: "Save a memory, this special time / It's mine, it's mine, it's mine, it's mine…" The record ends with three strong tracks in succession which each have the resolved musical feel of a "closer", suggesting that Tucker feels more comfortable with self-reflection rather than providing anthems – but leaving these for the end obscures their impact somewhat.
It's not much different to a Sleater-Kinney record in second gear, which still means there are flashes of brilliance. There's a not-altogether-distant possibility of a Sleater-Kinney reunion in a few years, and on the basis of Kill My Blues, Tucker's fans will be anticipating that more than the more realistic alternative of her tightening up the loose screws in her solo band next time round.
25 September, 2012 - 08:57 — Stephen Wragg