Music Reviews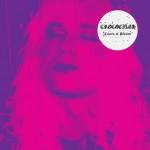 Crocodiles Crimes of Passion
(French Kiss)
Buy it from Insound

Crimes of Passion is really about nostalgia, a sense of longing for the golden age of rock n' roll. It pays tribute to leather jackets, dark-rimmed sunglasses and that feeling of youth that rock music gives you. Moving on beyond their drowned in sound roots in Summer of Hate and Sleep Forever, the duo of Brandon Welchez and Charles Rowell have crafted a more polished album, but one that still lingers in the shadows of their pervious works.
The San Diego band's fourth full-length effort has all the sensibilities of classic garage rock - think of Tommy James & The Shondells with the obvious gloomy and echo-soaked addition of Jesus and The Mary Chain. Clocking in at just over 30 minutes, the album showcases a tight and well-rounded take on fuzz-pop, which was appropriately produced by Sune Rose Wagner of the Ravenonettes. Who in which Welchez and Rowell founded a perfect partner in crime, as Wagner was able to add his pop shine to the Crocodiles' tales of drug-induced bohemian living.
The album's opener, I Like It In The Dark, take a darker spin on a what constitutes a piano-ballad. The soulful, gospel styled jam has Welchez quoting some memorial lines, "storm the gates of heaven and be our own God." It's followed by Marquis De Sade, a tribute to the French philosopher who the term "sadist" is coined from. The track plays like a bubbly love song, but with that side of life that Bukowski would so beautifully document on paper. On She Splits Me Up, an echo laden riff leads into an arrangement that points to the Jesus and The Mary Chain comparison, very stylized as so. Me and My Machine Gun has sort of a Smiths vibe to it. As the main guitar riff loops over and over, you get a sense that you have heard this before.
In harking back to the days where rock songs weren't always about a girl wanting to hold your hand, Crimes of Passion really covers all bases. It has a health dose of noise laden pop-riffs that perfectly compliment Welchez's contrast of upbeat vocals and gloomy lyrics. Despite being nothing original, Crimes of Passion comes off a good rehashing of the genre, making you rethink what Jesus and The Mary Chain's Just Like Honey really meant.
21 August, 2013 - 04:20 — Carlos Villarreal