Music Reviews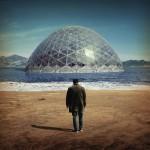 Damien Jurado Brothers and Sisters of the Eternal Son
(Secretly Canadian)
Buy it from Insound

With his eleventh album under this belt, Damien Jurado has paved a versatile and storied path, encapsulating everything from a coffee shop soundtrack to a full-blown psychedelic revival. Continuing his collaboration with producer Richard Swift, Jurado's Brothers and Sisters of the Eternal Son carries on where 2012's Maraqopa left off, showcasing Jurado's two decades in the folk game.
From my experience, most folk rock albums usually get dismissed and get filed under coffee shop background music. It may be a plain generalization, but most do end up being suited to fill the dead air at a Starbucks. Brothers and Sisters is a bit more deserving than to end up as background noise to over-priced lattes. Jurado's songwriting carries some weight; his songs are wonderfully crafted and require a few go-overs to fully grasp. Headphone rock best describes Brothers and Sisters, where each and every subtle pop or hiss needs to be listened to closely to truly appreciate. Jurado has a knack for creating, well this terms gets thrown around a lot, but atmosphere in his orchestral output. Brothers and Sisters flows effortlessly, not quite a concept album but a mysterious story set to music.
Brothers and Sisters features Jurado utilizing some old and new influences. Along with his traditional roots in psych-rock and folk, some latin and jazz influences become apparent in Silver Timothy. For the most part though, the album falls in the shadows of a more psyched out version of a Nick Drake album. Jurado's jumbled vocals intersect wonderfully with his droney guitar strumming throughout the album. Along with the healthy doses of reverb and echo, the album transports listeners back to a bygone era. Album opener Magic Numbers starts the record off with a jaggy-ended rock jam, bolstered by heavy drum work and Jurado's ghostly vocals fed through reverb. As it progresses, Metallic Cloud gives tribute to a country ballad but with a touch of psych-rock, a mixture that Jurado pulls off easily without feeling cheap or contrived.
On Maraqopa, Jurado's songwriting placed him on a spiritual journey of sorts. It has a quasi religious feel to it, present in his lyrics about faith and religion. Jurado often described himself as a Christian in interviews, which he showcases to great effect. While low-key, the Christian reference in Silver Katherine gives way to the lyric, "I have seen Him… pacing through the sky." The video for the track, filmed in a beautiful part of the southwest, also adds to the sense of mysticism, but then again that's what folk-rock is all about.
Brothers and Sister's third track has Jurado pointing back Maraqopa with the justly titled Return To Maraqopa, another droney folk ballad that signals the end of a journey that started in Maraqopa. Along with Silver Timothy, a theme is developed among Silver Donna, Silver Malcolm, Silver Katherine and Silver Joy. The tracks play out like chapters in a book, each entailing interconnected characters in Jurado's cosmic tale.
While very similar to Maraqopa, Brothers and Sisters encapsulates Jurado's keen songwriting, cementing him as a worthy and enduring force in folk rock. Tracks like Silver Timothy and Silver Joy showcase what Jurado does best, crafting songs that despite being a bit gloomy are beautiful and heartfelt. Brothers and Sisters simply adds another notch to Jurado's career as a mystic troubadour.
24 January, 2014 - 12:00 — Carlos Villarreal