Music Reviews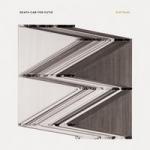 Death Cab for Cutie Kintsugi
(Atlantic)
Buy it from Insound

Benjamin Gibbard has an exceptional knack for writing impersonal songs that find a home in everyone else's but his own. Perhaps a consequence of his own doing, he's become a cheerleader for the disaffected, whose dejected anthems have acquired a feverish following ever since Death Cab for Cutie became a household name after the phenomenon of overwrought teen melodrama The O.C. His narrative approach is detailed but commonplace, heartfelt and wholly melancholy, which makes it impossible not to find that one perfect song in their extensive catalogue to wholly consume your entire days, weeks, months, if not years. Their career peak, Transatlanticism, is riddled with quotable bits, conveying subdued, inward-looking moments in the most mundane circumstances. That streak has gradually weakened ever since they made their move from Barsuk to Atlantic with Plans in 2005, writing solid, technically unblemished records that, though inoffensive and impeccably performed, left a much desired effect on those who came to believe that Gibbard's eternal sorrows would never subside.
That's not to say that Gibbard has been sailing on calm waters. His profile suddenly changed from sensitive indie rocker to tabloid fixture after his amicable divorce (but not really) with everyone's favorite quirky free spirit Zooey Deschanel, which subsequently lead him to divorce himself even further from anything that would remotely assimilate his personal life. Any precious generalities Gibbard would pen about heartbreak and disillusionment suddenly became a reason to speculate about his well-being. As a band they continue to operate in the same way, really, only that now every somber memory is usually contrasted with upbeat, peppy instrumentation more often. Every Death Cab for Cutie album ever since Trasatlanticism has left an element of wish fulfillment, of being acceptable but not good enough, and then leaving ardent fans to retreat to said "acceptable" album because that shiny new release is not as good as the one that came out before. Under that assumption it's safe to say that Kintsugi is already predestined to be their worst album to date, but the promise of a "return to form" will forever be etched in everyone's mind.
In truth, Death Cab for Cutie already know who they are and who they want to be for the rest of their fruitful, successful career. Kintsugi is unfortunately as bland as they come, and no good amount of mourning, sonorous guitars can excuse the fact it's becoming increasingly difficult to find a relatable common ground in Gibbard's repressed impulses. For instance, No Room in Frame tries to fill that promise in Gibbard's typical wonderment - he seems to ponder about the inevitable demise of a high-profile relationship ("Was I in your way? When the cameras turned to face you/ no room in frame/ for two") with the promise of a new start that will eventually lead to more heartbreak ("and we will both go on to get lonely with someone else"). Gibbard's view on relationships continue to be quite bleak and pessimistic, as in Hold No Guns, in which he alludes to an elusive partner who keeps withdrawing from him without establishing any clear motive ("My love why do you run? / For my hands hold no guns"). There's still a pulsing nerve in his words, sprinkled with a dash of passive aggression, though the increasing platitudinousness in their choruses proves that Gibbard's ability to sucker punch with a terminally cloying image is beginning to wane.
By now it's safe to say that the sonic qualities of a Death Cab for Cutie album are fairly predictable - there's the lingering ballad about a long distance relationship (Little Wanderer), the flanged, guitar dramatics that are ready-made for the finale to a TV series of your choosing (Ingenue), the deceivingly earnest acoustic melody with slight electronic accouterments about the eternally unobtainable object of affection (You've Been Haunting Me All My Life), or the peppy, sharp radio single with a carefully placed proverbial chorus fit for arenas that, to its credit, is usually the best track on the album (The Ghosts of Beverly Drive). Due credit goes to mammoth engineer Rich Costey, whose worked with Foo Fighters, Chvrches and Foster The People, for its pristine production sheen, whose vision for aural pomp isn't any different than the big-budget decisions former band member Chris Walla made behind the console.
In trying to gather a tougher skin, the effeminate despair in Gibbard's lyrics has now been reduced to staid machismo. There's a prickly defiance in his words, as if he's tired of narrating all the heartbreaking nonsense that's consumed him for decades, but what good is it to continue to perpetuate "the feels" if they're expressed so nondescriptly. It's almost as if Kintsugi was written with the sole purpose of, well, writing another record, a contractual obligation coming from an outfit that loves what they do, and are good at it, but can't quite figure out how to resonate on an emotional level as they continue to outgrow their fanbase. A drippy sentiment like "I become what I always hated/When I was with you then" is nothing to be ashamed of, guys. If anything, it's as powerful now as it was then.
2 April, 2015 - 23:14 — Juan Edgardo Rodriguez