Music Reviews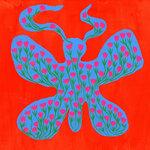 Dehd Blue Skies
(Fat Possum)

Credit is due to Jason Balla, Emily Kempf, and Eric McGrady, the members who make up the Chicago-based trio Dehd. On 2020's Flower of Devotion, the band delivered such a sincere and cohesive statement of punk-inspired dream pop that listeners may find it hard to imagine them doing anything else. But rather than the bright guitar riffs and intensifying drums that opened up that album, listeners are greeted with a lullaby-esque confession by Balla. "Because you know it only takes a minute / I start out fine, but then I'm in it," he sings. The song, titled Control, imbues a tenderness that belies what's more likely a moment of crisis and painful self-realization—the outcome of life experience and tough moments.
Dehd's latest album, Blue Skies, is, above all else, an explorative work, one that shifts between the bedrock sounds of their previous album and the many ways they can expand on them. "I was a bad love," Kempf declares on the single "Bad Love" over bright guitar chords and [pounding] drums—the song quickly finds its tight, driving groove in a vein similar to the Flowers highlight Loner. Yet songs like Window mark subtle shifts: the three-minute song is dressed in the dreamy gaze of their previous work, but dials down the hooks; Kempf and Balla sing together while verses are cut with the grittiest shreds to date by Balla.
Elsewhere on the album, their experimentation is more pronounced; the band recorded Blue Skies in the same studio as Flowers yet spent triple the time there. Drum machines pulse on Hold while McGrady delivers two lines again and again: "When I hold you up you know it's out of love / When I hold you up, it's love" (his deeper register bears resemblance to The Magnetic Fields's Stephin Merritt). Clear and Waterfall take another approach by exploring the silence and space between their melodies and rhythms. Across Blue Skies, the band cracks open their songcraft to see how else they can assemble the pieces.
The album packs a lot of ideas—and songs—into its brief 33-minute runtime, preventing almost any song from overstaying its welcome. Bop, Hold, and the subdued Palomino flesh out Blue Skies in distinct ways; they're also among the album's shortest songs. Dehd isn't afraid to release an earworm when they write one but they also know when one's run its course (in this regard, the almost four-minute Memories might be a slight misstep). The result is some of their loosest, most fun work.
Yet everything about Blue Skies—its lyrical themes, song titles, track runtimes—implies control, a necessity to tamper down the potential consequences of unbridled exploration. Bop, though a delightful ode to the onomatopoeia, is really about controlling one's impulses. "Dominoes lineup around the room," Kempf explains, followed by the inevitable admission "I can't help myself, I gotta know." Their credit, the band does know; elsewhere, Dehd expresses regret and exhaustion. "Over kissing strangers / I want to kiss a friend," Kempf admits on the punkish Empty In My Mind. Single and album highlight Stars centers again on Balla's state of mind. "I know I'll never make it alone / I check the sky for my way back home," he sings, his voice tinged with uncertainty. The song shifts from head-bopping rock to a swaying ballad that nonetheless evokes the hopeful in its glistening sheen.
But just as on Flowers, Dehd's appeal lies in their optimism and sincerity. For every heartbreak, there's the hope that a better partner will come along. For every regret, there's a recommitment to self-improvement. "This is all we get, best to take the risk" goes the album's final line. Eventually, the clouds will part.
1 June, 2022 - 15:01 — Carlo Thomas