Music Reviews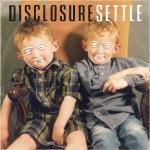 Disclosure Settle
(PMR/Island)

The hype machine has been in overdrive lately for a UK-duo called Disclosure, made up of two brothers named Guy and Howard Lawrence. After a series of deep/funky house EPs spread out over nearly two years, their debut LP, Settle, has arrived. When it's good, it soars. Sometimes the high point will be a whole song, as the case is with the wildly impressive Latch or the AlunaGeorge assisted White Noise, and other times it's a chorus, such as when Sasha Keable takes her turn at the microphone on Voices. On the other hand, when an hour-long record refuses to move beyond simple hooks and still finds a way to have an identity crisis, the lows can be pretty low, too. The pop records and the house records are not a seamless blend, but rather a tug-of-war that makes for a rather disorienting listening experience.
By and large on Settle, the more a song tends toward house music instead of pop, the less successful it is. The exception is the aforementioned Defeated No More, which spins great drum rhythms underneath syncopated synth lines and has some great backing vocals to boot, but January and Stimulation wear out their welcome by the halfway point. As far as house music goes, the Lawrence Brothers aren't doing anything that hasn't been done before, and their hooks are simple and tend toward simple four-on-the-floor bass rather than the more complicated work of many of their influences (and indeed, their own, earlier work). Synth lines on these songs are hit and miss, often times too erratic to provide a melody that keeps with Settle's overarching pop aesthetic.
On the other hand, dance and house tendencies mask the album's biggest weakness, which is, inarguably, its lyrics. House cuts can get away with repeating one line or even, in the case of Stimulation, one word, the whole time (the issue with these tracks is their lack of progression and overly simple hooks), but their pop songs cannot hide so easily. Even the memorable Latch is cliché-ridden and embarrassing, saved only by memorable melodies and one of the best vocal tracks you will hear this year. There are thematic ties—most songs have to deal, albeit roughly, with acting on one's own and finding space. Defeated No More recalls the fire of the opening track, Latch's narrator is very obviously looking for a place within the arms of another, and Aluna Francis contrasts it with "I don't need you giving it straight to me." Still, you are hard pressed to find a working metaphor, and it is best altogether to ignore Jessie Ware's quips about the "low" in "lonely." Settle is for your body, not your brain. The less you think about what you are hearing, the better it is.
That being said, when a record is as apt as this one at turning you into a compulsive dancer, mindless enjoyment isn't necessarily a bad thing. F For You's hypnotic rhythm grabs you and never lets go, and even Help Me Lose My Mind, a cool-down to close out the record, is perfect for a last dance. The album's second half as a whole, however, is not as alluring as the first. Voices lures you in slowly and transports you to a sensual pre-chorus before a lackluster transition to an overly simple, a monotonous chorus, Grab Her! is overly long, inert, and with synth lines that are irritating more than anything, else; it's the only unqualified "miss" on the album. Second Chance suffers the opposite problem, being too short for the plethora of good ideas and absorbing atmosphere and ending too abruptly. The last few songs are solid, but even the best of them, the smooth You & Me, featuring Eliza Doolittle's impressive vocal track, is no match for the varied highlights on the album's first half.
At the end of the record, exhaustion is certainly a viable feeling (though the aforementioned Help Me Lose My Mind provides much-needed reinvigoration), but it's mostly a good kind of exhaustion. Like Primal Scream before them, Disclosure have found an erratic blend of deep house and pop that, while not entirely original, has moments of greatness. While that runs the risk of sharing that band's famous inconsistency, it also means that even if this is their Screamadelica, there's an XTRMNTR in their future. Any band that can turn over vocal duties as often as they hold onto them and somehow make all the music sound like their own is a band worth watching, and despite its inconsistency and even its lack of imagination, there are a lot of thrills to be had in this hour.
11 June, 2013 - 04:39 — Forrest Cardamenis