Music Reviews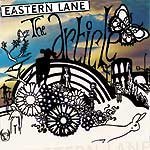 Eastern Lane The Article
(Rough Trade)
Buy it from Insound

And so the flood waters continue to flow, as more and more bands emerge claiming to reclaim 'true rock'n'roll', while sounding like either the Strokes or the White Stripes, and by reference, either Television or the MC5. Along come the Eastern Lane then, from fashionable Berwick-Upon-Tweed (OK, not fashionable as such), at first glance another easily dismissible knock-off act. Or are they? Well, no, not really. Daffodils For My Mother kicks off with some voluminous feedback and ends up more along the lines of the late, lamented McLusky. This is, of course, a very good thing, and its evident from track one that there's a bit more life and vigour in this band than most others around at the moment.
Probably the best example of this is the edgy, groovy Desires Of Liars, which extends to almost eight minutes of driving and consistently interesting improvisatory guitar noise. This is followed by the plaintive, acoustic Goodbye Rose Garden, demonstrating not only an admirable diversity but also the heartfelt vocals at a more naked, open angle.
Of course, despite all of this talk I could be waxing lyrical about Kings Of Leon or the 22-20's for all you know. So it's here that the songs come into the equation. They ain't all perfect, unfortunately. I Said Pig On Friday is a bit rubbish to tell the truth, sitting as it does between the irritatingly youthful faux-snottiness of the Subways and the apathetic Southern harmonies of said Kings of Leon. On each side of that lies a genuine gem, however: No.5 has a melodic charm built on a rollicking drum battery and a bruising riff, and For The Sun again displays the tender, breathless vocals that constitute a significant proportion of the appeal of this band.
The bookending tracks recall, as mentioned previously, the wonderful McLusky. Daffodils... is as frantic as the latter ever got, over in 1:40 and all the better for it, all splashy cymbals and sloppy barre chords. The closing They Gave Me Scripts To Read is more reminiscent of the slow-burning, sneering numbers on McLusky's last album.
So there are a ton of references here. McLusky (good), Kings Of Leon (not so much), Strokes (been done), even some of Nick Oliveri's more splenetic moments in Queens Of The Stone Age (see Pretty Good). As an amalgamation, this could have gone either way. Fortunately for us, the quality of the songwriting and the fact that the band remembered to include melody, guts and emotion raise it a notch above most of the current pretenders.
28 March, 2005 - 23:00 — Simon Briercliffe