Music Reviews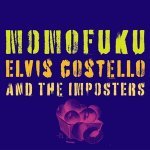 Elvis Costello and the Imposters Momofuku
(Lost Highway)
Buy it from Insound

After Elvis broke up the Attractions and went to Warner Bros. in 1987, his output famously fragmented into genre experiments and occasional returns to hard driving pop material. Critics and fans split on the genre experiments (I seem to be the only unapologetic fan of the Juliet Letters) but the pop music always seems to be heralded as a "return to form". Well, yes and no. As much as I love Napoleon Dynamite, his late period rock songs are typically weighed down by his fascination with his own abilities; too many words, too many jarring modulations and too many melodies straining the top of his vocal range. He frequently pulls this off, from Spike's This Town to Brutal Youth's 13 Steps Lead Down, but just as often his songs lack their previous punch by eschewing directness. I realize that the greatest and most versatile songwriter of his generation doesn't want to be hemmed in by ordinary pop conventions, but they became conventions for a reason.
So today's Elvis is an acquired taste that is not going to go down in one easy gulp like Oliver's Army might. Take a song off the new album like Turpentine. Here we have Elvis playing with noise and rumbling drums, doing his best to obscure the key with odd changes, shifting to a magically singable chorus before transitioning two more times to different melodic motifs. In all I count at least 5 or 6 distinct sections in what would be an instantly memorable tune if it was cut back to 2 or 3. The fact is, Elvis writes great hooks, and true to their name, they pull you in, and more often than not your patience is rewarded. But, unfortunately, it makes his hookless songs instantly forgettable, as about 33 1/3% of his recent catalogue bears out. And not coincidentally, the cd format, taking over in 1987, allowed Costello to indulge himself. Dare I suggest that an editor is in order? When I think how many of his later albums would have benefited from the time constraints of the lp, my mind boggles. Momofuku is no exception.
He can still lead a rocking band, though. Stella Hurt is just one example of his undiminished ability to kick ass, and Steve Neive's organ is like an old friend floating above the mix. No Hiding Place, the opener, also packs quite a punch, as does the follow-up American Gangster Time. This is where Costello excels, giving his voice its finest rough edge, and driving the band hard from start to finish. Interestingly, his usually reliable gift for balladry is a little off, with Flutter and Wow sounding a bit too pat and My Three Sons, though lovely, skirting the wrong side of the sentimental line. John Lennon could pull off a mawkish ode to his offspring with Beautiful Boy, but he was John Lennon.
By my calculation, Costello's hit rate on this one is about 50%, which fails the two-thirds rule by a decent margin. But he remains a songwriter par excellence, and when he scores he scores big. Momofuku has glorious fragments and plenty of passion. If that sounds good to you then pick it up – just don't expect too much.
(Note: This review was for the vinyl release. Elvis gets extra points for releasing on vinyl first with a download code, as analog makes a much needed comeback.)
3 May, 2008 - 12:00 — Alan Shulman