Music Reviews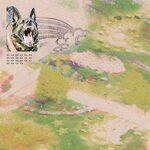 Feeble Little Horse Girl With Fish
(Saddle Creek)

"I know you want me, freak" is how Feeble Little Horse opens their sophomore album, Girl With Fish. It's an assured statement for a self-reliant band that splits the difference between fuzzed-out maximalists and earnest pop songsters. The Pennslyvania quartet knows exactly when and how to spike their songs with twee textures, disgusted lyrics, dreamy love songs, and noisy freakouts. It's for these reasons that Feeble Little Horse are standing at the front of the pack when it comes to the newest wave of American shoegaze. With Girl With Fish, they reach their full potential, pairing feedback and loopy guitar effects to brighten Pittsburgh basements with surprising sweetness and infectiousness.
Front-loaded with hook-heavy wonders, Girl With Fish expertly toggles between those obvious highlights and healthy asides like the acoustic-heavy Healing or the goofy Pocket. On Tin Man, the album's lead single, there's a restlessness that leaves the song feeling itchy like a scab you can't avoid. Throughout it, Lydia Slocum's lyrics are ideally imprecise with an emphasis on feeling: "But when I dent you, I end up bruised," both evocative and reaching more toward sweeping feelings. Not to mention the "huh!" adlib on the chorus, which is so ridiculous that it bends back around into being awesome.
Feeble Little Horse's secret-weapon comes in with the aforementioned sweetness. On Station, fragmented lyrics and a shining combination of synths, acoustic guitars, and warping drums evoke the feeling of falling in love for the first time. On Pocket, a twee question-mark-of-a-song, the chorus of "Do you want to be in my pocket?" would be saccharine if not for the song's clear conviction. That's not to say Girl With Fish is an exclusively positive, agreeable record, though: "Steamroller, you fuck like you're eating" is how Slocum opens the record's best song, cutting through a maze of noise with a lackadaisical demeanor. It's this balance that cues Feeble Little Horse up to be one of the biggest bands working in indie rock right now, especially if they keep making records as good as this one.

9 June, 2023 - 18:04 — Ethan Beck