Music Reviews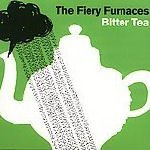 Fiery Furnaces Bitter Tea
(Fat Possum)

Those familiar with the Fiery Furnaces' body of work usually fall into one of two camps: the first are those who acknowledge the talent of its members, Matthew and Eleanor Friedberger, but ultimately dismiss their music as a pretentious, undisciplined imitation of Captain Beefheart. And secondly, there are those who believe they are among the most innovative and fearless American indie bands around. I haven't decided which camp to join, but I must admit I was excited by the prospect of a new Fiery Furnaces record - especially one following their brilliant, misnamed EP, a collection of ten of the bands catchiest, most concise pop songs.
I will omit any references to the bands last proper full-length album, Rehearsing My Choir here since, in the spirit of full disclosure, I must admit I have not mustered the courage or patience to sit down and listen to it yet. That said, it should be noted that Bitter Tea has been loosely been dubbed the 'companion' to Rehearsing My Choir, primarily because both albums were conceived around the same time.
Musically, Bitter Tea has ammo for both camps. The detractors can scoff at the odd piano and Moog percussion, the cheezy disco beats, a confusing two-minute intro in Benton Harbor Blues, and, of course, the incoherent passages of backward singing sprinkled throughout. The loyalists can take comfort in pop gems like the wistful Teach Me Sweetheart, the pretty waltz Waiting to Know You, and the Motown elegance of Benton Harbor Blues. All of these songs - and most of the album, in fact - are effective because they play to the Friedbergers' strengths, specifically Matthew's hook writing ability and Eleanor's unique vocals.
By now it's clear that lyrics often take a second seat to the band's elaborate production and arrangements. But the earnestness and charisma Eleanor brings to most of these songs overshadows the band's literary shortcomings. It's fair to say that Eleanor's vocal talents are often overlooked; whether it's during the band's frantic, uneven live sets or the bulk of the band's previous work which emphasizes the irony and humor of her delivery rather than the sound of her voice. The subtler moments in Bitter Tea suggest that an Eleanor Friedberger solo record might be an interesting experiment to look forward to down the road.
As a whole, this album will likely be labeled a transitional album, one which finds the band trying to find the delicate balance between its indie pop sensibility and the ambitious experimentalism that has been previously lauded (as in Blueberry Boat) and mocked (as in Rehearsing My Choir) by critics. This is unfortunate since it's arguably the Fiery Furnaces' most accessible and rewarding album to date.
10 January, 2007 - 22:36 — Alejandro Martinez