Music Reviews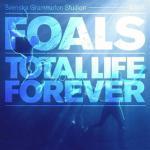 Foals Total Life Forever
(Sub Pop)

I've never heard Antidotes in full and, as it turns out, I don't need to. For all intents and purposes of this review, that 2008 record may as well not exist since I'm not even going to blather about contrast and how its brass-addled, white-boy funk has been discarded this go around. It hasn't. Upsetting as this may be to fans that sleep with a copy of Antidotes under their pillows, the album's most memorable attribute is that even Foals didn't care for it, at first shuffling Dave Sitek's production efforts under the rug before outright dismissing it during recent press circuits. Another strike against Antidotes' presence is that Total Life Forever essentially guards that same white-boy funk, less angular but increasingly dance-ready.
If there's one hidden impression worth taking from the "controversy" surrounding Antidotes, it's that Foals set their bar rather high. They were courageous enough to follow their ideals by shelving Sitek's production and they're serious enough about evolving to openly simplify their sound. That discipline shows on the surprisingly conventional Total Life Forever, which forsakes much of their earlier chin-scratching artiness for trendier dance-rock rhythms. Whatever the band's intentions, you can't fault opener Blue Blood for appealing to a wider audience when its bouncing bass and crisp guitar chimes radiantly over Yannis Philippakis' heartfelt vocals. Alternating between dewy atmospherics and guitar tones so brittle they border on electronic, tracks like After Glow and Alabaster make-up the general trajectory of Foals' songwriting by rising to a percussive climax. Whether inspired by funky outbursts or frenetic emotions, Foals seem to be drawing more directly from the NME's recent graduate class, utilizing the earnestness of Bloc Party and the soaring choruses of Friendly Fires as a template. That these newfound similarities with other successful British indie acts unveil themselves naturally amid Foals' own idiosyncrasies is no fluke, rather proof that these lads are capable of far more than simply fitting in.
Considering the determination Foals have already shown over their young discography, it's possible that this record could just be flexing their pop muscles. Yet Total Life Forever's knack for dance-rock is so infectious and eager-to-please, it's almost troubling. Outside of the odd instrumental (Fugue) or flirtation with excess (Spanish Sahara), the record seems hypnotized by its strict formula of repetitive choruses and building intensity until the final two tracks, Two Trees and What Remains, remind what a compelling voice Foals can offer the Brit-rock universe. Beautifully ethereal yet firmly rooted in careful dynamics, these distinct, late highlights should serve as a wake-up call suggesting that by blindly embracing pop structures, Foals are weighing appeal against integrity. The difference? Integrity lasts much longer.
4 July, 2010 - 22:05 — Ryan Pratt