Music Reviews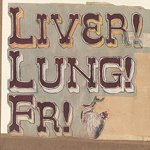 Frightened Rabbit Liver! Lung! FR! (Live)
(Fat Cat )
Buy it from Insound

Frightened Rabbit need to be careful. They are relatively new to the scene, but walk a dangerous line of falling into Coldplay traps or Damien Rice pitfalls, and that won't be good for anybody. On the heels of their lauded sophomore effort, The Midnight Organ Fight, the Glasgow lads offer the live recording Liver! Lung! FR! Frightened Rabbit keep their slight edge with stripped down versions of songs from the aforementioned album, while the necessity of this release remains questionable.
It's recorded intelligently, relatively sparsely and effectively. The essence of all of the songs remains intact and the band is spot on in their recreations of their best tunes. Stripped down sets sometimes come off as too self-serious. Unless there is a sing-along, some aura of self-awareness or really good down-to-earth banter (saying "cheers" after every song doesn't count) it could feel like the acoustic railings of an overgrown ego. As enjoyable and occasionally uplifting as these sad songs are, that's the fine line the boys walk when presented in this context.
Songs like
The Modern Leper
take on a fresh, more delicate approach than on the studio version. Leader Scott Hutchison is able to express urgency even better in this unpolished take. His voice strains to hold the higher notes, making them earned rewards. As far as energy goes, things may appear to be a bit subdued at first, but the comfort zone widens considerably and gets increasingly intense with
Old Old Fashioned
and
Good Arms Vs. Bad Arms
and
Keep Yourself Warm
where
James Graham from The Twilight Sad contributes an earnest vocal performance.
The raucous behavior of their debut has not been all but quelled as evidenced on the momentum building, seemingly heartfelt
Backwards Walk.
The angular guitar parts are sanded down, but remain tense and the occasional f-bomb is still dropped for melodramatic fury.
I guess the main issue here is the purpose of a live album with an act that's so fresh. It's good to see that Frightened Rabbit can adjust to fit their venue and put on an impassioned performance, but does anyone need this release if they already have their two studio albums? Most of this recording follows the track list of The Midnight Organ Fight song for song, leaving us to wonder about the purpose of this recording and the sincerity of the sentiments buried beneath the band's histrionic performance.
10 April, 2009 - 08:39 — Brett Oronzio