Music Reviews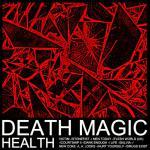 HEALTH Death Magic
(Loma Vista)
Buy it from Insound

When artists have created an aesthetic for themselves that is devoid of any affable engagement, do we really want them to reveal another side of them that may deface their true semblance? It's rather unusual to regard HEALTH as such since they've connected with a more commercial orientation for years now, and yet they've done so by sticking to their wholly inaccessible noise. The Los Angeles four piece wrote the original score for the video game Max Payne 3 in 2012, which brought a more focused and action-oriented approach to a sound that, prior to that, swerved carelessly - as opposed to the tribal incongruity of their two full length albums, working on Payne gave them the opportunity to seek some direction instead of adhering to primitive improvisation. But the career route HEALTH has made throughout the years hasn't been exactly linear, and in between those projects they've managed to release a pair of remix albums that proved their talents extend from stimulating headphone listening to the dancefloor.
In the early days, HEALTH were even too peculiar for DIY music space The Smell, where they'd bring along the kind of incendiary energy that was apt for that's venue's musty and sweaty ambiance. Things escalated quickly after receiving quite the endorsement from one Trent Reznor, who offered them an opening slot on Nine Inch Nails' Light in the Sky tour in 2008. One could say that the band are an unlikely success story, though they've done enough to prove that those early HEALTH records were used as a jumping point to further explore other avenues. But for a moment, it seemed as if the band would call it a day and ditch the HEALTH moniker altogether, a sign of having outgrown those days of exorcizing themselves through punishing abandon. Except that they took the next logical step considering they have friends in high places: try out their first pop record. When Beats One host Zane Lowe announced their first single, STONEFIST, for the first time on the famed digital radio station, a platform Reznor himself has oversight over, it all began to make sense.
STONEFIST sounded unrecognizable for a variety of reasons: not so much that it emulates the polish of pop-industrial revivalists Stabbing Westward, but that it attempted to convert leader Jake Duzsik into a bone-fide rock star by pushing the vocals up to the front of the mix. "And we both know, love's not in our hearts", Duznik sings in muted lethargy, his vocals heavily compressed alongside massive-sounding metallic pings that are just shy of following it up with a dubstep breakdown. There's an evident modernity to most of Death Magic, and as FLESH WORLD (UK) demonstrates with its bleak techno-punk landscape, it negates the pulsing rhythm at hand by absorbing the tears of disarmed duo Crystal Castles. In DARK ENOUGH, Duznik proclaims that "we cheat/ so what/ it's hard to know the reasons why", expressed with colorless detachment over a lush, vast soundscape that matches his ambivalence when it comes to matters of the heart.
There's been a dramatic change in how HEALTH manage their cold, callous temperament - whereas thumping drum hits and shrill, tonal blasts were their principal elements of cathartic ritual, now they're making themselves more vulnerable, though surprisingly, by approaching feeling with a more synthetic bent. COURTSHIP lI, which is a throwback to their 2007 track of the same name sans its roman numerals, is clearly the album's centerpiece - it emulates the former track's uncompromising design by giving it an even more acerbic, if not expressionist, thrust. "You hurt so much/ you hurt someone", he ruminates with hardly any compassion, making the point that there's no point in dwelling over whose the righteous one when a shade of immorality follows us all. The laconically-titled LIFE tries to inject some optimism, even if it's disguised as an anthem on choice (or it could very well be an atheist manifesto, whichever way you look at it), though it has the kind of catchy, life-affirming chorus that will get the kids to sing-a-long this festival season.
And this isn't something you wouldn't have expected from HEALTH, isn't it? Sure, they've deliberately stepped away from their arty post-punk leanings in favor of a more palatable sound. Those who were expecting for the band to further entertain their nihilistic behavior may be set for disappointment, and it's still there, though once you're exposed to their plain, empty-headed lyrics you kind of wished they'd still bury their vocals under all that noise. Death Magic may be an attempt at civilizing a group of freewheeling improvisers, though their prolific mastery of sound engineering proves they're certainly on a creative high point. Sometimes it brings about some excessive swank: the instrumental SALIVA (two endless minutes of what sounds like a tommy gun firing shooting blanks) and NEW COKE (its bootstrap rhythms oozing with testosterone) are pure masturbatory folly, and sound like outtakes taken from the Payne score. What always distinguished HEALTH was their ability to go off into a maelstrom of ominous disrepair, and losing sight of that leads its core sound to suffer regardless of whether they alter their approach.
3 August, 2015 - 04:39 — Juan Edgardo Rodriguez