Music Reviews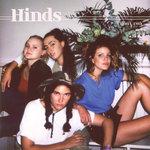 Hinds I Don't Run
(Lucky Number)
Buy it from Insound

It seems a little strange that Hinds open I Don't Run by trying to "show you it's cool to grow up." The Madrid four-piece aren't a band that sounds ready to mature, either, returning with another album of reckless slacker-esque love songs. Although even if they are in love, they're not prepared to settle down just yet.
The album's second track, Soberland, perhaps encapsulates Hinds at their best - reveling in the humor and fun of love rather than frantically looking for "The One." It's a laid-back track about falling for the wrong person that builds into a delightfully messy chorus. They start by asking, "How am I supposed to touch you and stay away?," but by the end, they're laughing that "I hate your taste, I hate your background. Why don't you talk normal once?"
Their breezy indie rock is perhaps a red herring in many ways. While their knack for jaunty, 90's garage rock sees them reduced to being a band who only sing about parties, the band want you to be aware of how much more is going on. Tester, for example, is one of the most upbeat tracks on the album, but its lyrics read like a bitter break up: "Why did you have to lie to my face? Should I have known before you were also banging her?."
There's more substance here than Hinds are often credited with, and that's a result of the band's greatest strength - the interplay between the vocals of guitarists Ana Perrotte and Carlotta Cosials. Whether they are enthusiastically interrupting each other on New For You, or providing support on I Feel Cold But I Feel More, the partnership gives Hinds' music a sense of light and dark. It often feels as if during the songwriting process the pair actively work through their issues rather than dwell, until is resolves to some sort of sweet conclusion.
That sense of spontaneity is enhanced by I Don't Run almost feeling like a live album, for better or for worse. For any new listener of Hinds, it might seem bizarre to say this album is more refined and polished than their debut - the vocals still overlap and distort, and the guitars still veer slightly out of time - but everything feeds into a ramshackle charm offensive.
I Don't Run never ventures too far away from convention, but it doesn't need to. It's that familiarity that allows them to ramp up the sentimentality without coming across as kitsch. It's refreshing to hear something that's honest in its simplicity - these are just songs that try to make you fall in love and, as Cosials and Perrotte put it on Rookie, even "If you're doing it wrong, at least do it strong."
24 April, 2018 - 04:41 — Matthew Smith