Music Reviews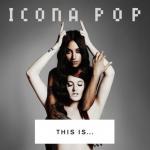 Icona Pop This Is... Icona Pop
(Atlantic)

This Is... Icona Pop is the international debut album by Icona Pop (obviously). The Swedish duo made up of best friends Aino Jawo and Caroline Hjelt first made waves back in 2010 but became considerably more familiar when their juggernaut single I Love It, featuring Charli XCX, which propelled them into the international mainstream earlier this year. Packed with hooks, youthful rebellion and knowing EDM squiggles, this record splices a selection of songs from their Sweden-only debut with several new tracks intended to capitalise on the runaway success of the aforementioned single.
Predictably, many of these tracks follow the blueprint set by I Love It while never quite reaching its dizzy highs. This is mainly because each time the trick is repeated it loses some of its punch. The more enticing tracks tend to be the ones which don't stick to that formula, like Just Another Night, where the vocals have a bit more space to breathe, and In The Stars, which isn't a million miles away from the loud neon glow that their collaborator Charli XCX perfected on her own album. Tucked away at the end, Then We Kiss does a sterling job of channelling the colourful energy of 80's new wave with more vitality than the cynical chug of less-essential cuts All Night and Girlfriend.
The conundrum of formula versus variety is one that vexes many acts in the wake of a big hit. Do you follow a proven formula and risk boring the listener, or should you veer away from the direction that brought success and risk alienating those pulled-in by that one smash? More often than not, this record favours the former, but the effect of both girls rushing through lines in a hyperactive blur wears thin by the time a few songs have passed. Shouty hooks that coast along on frenetic production are great in short doses, but after a while, they bring on the sickly feeling that comes from too many sweets at an after-school party or being spun one too many times on the fairground waltzers.
Time will tell whether Icona Pop can keep up any kind of momentum, but right now, they look likely to go the way of that other female duo, Shampoo, who swiftly disappeared from the charts after only one sizeable hit. Sometimes pop is more of a singles medium, and that seems to be the case here. This Is... Icona Pop isn't a bad album by any means - it's galloping, carefree abandon is often infectious - but few of its songs leave much of an impression beyond ephemeral ear candy. It has ten passable tracks and one certified super-smash that will either get listeners gleefully singing-along or reaching for the skip button. You decide.
9 October, 2013 - 04:08 — Gary McGinley