Music Reviews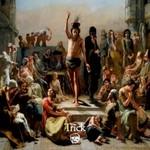 Jamie T Trick
(Virgin Records)
Buy it from Insound

When Jamie T (Jamie Treays) disappeared in 2010, there were murmurs that we had possibly heard the last from him for good. After all, his phenomenal debut, Panic Prevention, sampled anxiety guides, and Treays has always been vocal about avoiding the spotlight, so it wasn't implausible that the pressure had become too great. It would have been a tragedy. Kings and Queens saw Jamie T coasting but there was still a sense that he could go further. So it was a surprise when in 2014 he released Carry on the Grudge, a more mature and reserved effort. Grudge showed Jamie T as a more talented songwriter than many had given him credit for, and the slick production pieced together to create something incredible - but many didn't feel that it was what a Jamie T album should be. It was a similar story with his Magnolia Melancholia EP, which again lacked any samples, hip hop influences or any real urgency. There were some strong singles, but it left many feeling unsatisfied.
Trick is Treay's response to those who claim he's lost what made him so popular over the last decade. Jamie T immediately rectifies this with Tinfoil Boy and Drone Strike, with the latter proving to be an attempt to appease both rock and hip-hop fans. It works remarkably well, with guitars taking the backseat to a more prominent rhythm section. It almost sounds like a grime track that's punctuated with a wonderfully abrasive punk chorus. These are followed by Power Over Men and Tescoland, both of which would feel at home on Panic Prevention. It's a confident and assured start that the rest of the album can't quite match.
This confidence does start manifest into arrogance in the middle of the album, though sometimes it works- Dragon Bones especially benefits from the attitude with a slick bass and the chorus, "inside out, upside down, if I had a gun I'd blow my brain out", could have been awful without the accompanying attitude. It's not always as rewarding: Police Tapes especially feels too dense and confused to make any purposeful statement and Solomon Eagle sounds like Kasabian, while Robin Hood teeters on the edge of a Clash rip-off, just about staying on track.
There is still a lot to like about the second half of the album, though. Joan of Arc is especially stunning; in many ways it's a natural successor to Sheila and is up there as one of Jamie T's best songs. Sign of The Times sounds reminiscent of Carry on the Grudge, stripped back to just a single electric guitar and a bass guitar. When he sings, "where did all the venues go? We lost them all to businessmen" there's a knowing nod to those that see him as the last voice of a changing London, and especially of an indie scene that was so vibrant a decade ago. He also bemoans how conventional he is, remorsefully repeating that he "was never enough". It's a surprise to hear something so honest at the end of an album that exudes so much confidence. This facade of arrogance and happiness suddenly breaks down over the last 3 songs, and in the closer Self Esteem, the strings subside to hear the repeating "maybe I noticed you". It's a far cry from the aggressive opening of Tinfoil Boy, and leaves the obvious questions about where Jamie T should go from here.
Despite his grander statements falling flat and a mid album slump, Trick sees Jamie T at his absolute best. He's still as cutting as ever and the vastly improved production compliments his impeccable knack for pulling a chorus from anywhere. Joan of Arc, Power Over Men and Sign of the Times are amongst the strongest songs of Treay's career, but it is let down by some weak writing in other tracks. The wait for Jamie T's definitive album goes on, but this is the closest he's got so far.
7 September, 2016 - 10:10 — Matthew Smith