Music Reviews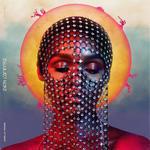 Janelle Monáe Dirty Computer
(Bad Boy / Wondaland)

If you've been following Cindi Mayweather's path to superstardom, then you'll be glad to hear that she's finally found her place in this world. The elegant android, who's been the focal point of every Janelle Monáe project, has gradually unraveled with a pop-minded thrust even if she renders as edgeless to some. It's a persona that Monáe has fully embodied with convincing humanity, and in Dirty Computer, she's not entirely ready to send her off to a waste management facility. She's molded Mayweather into the perfect pop star, and she's called Janelle Monáe.
It's recently come to light that Monáe has identified as pansexual, which is a convenient trope to write an extensive think piece on how she engineered this elaborate disguise. But rather than give out any redundant explanations, her unshackled identity blooms in Dirty Computer's eclectic borders. On the exuberant Crazy, Classic, Life, she's thankful for the freedom she carries as an individual. But as she samples an excerpt taken from the Declaration of Independence, contrasted with allusions of discrimination and prejudice, the argument she proposes is simple: "Just let me live my life."
She's somehow reversed the role of Mayweather. A good portion of her lyrics still alludes to digital terminology, though she now inserts them into her own narrative. On Dirty Computer, alongside a Brian Wilson harmony, she correlates human imperfection with the intricate foibles that taint our personal devices over a swirling, psychedelic utopia. She's the confident, archetypal femme fatale on Take a Byte, a sumptuous, funk-driven romp with an eighties soft rock feel where she uses every double entendre in the book to act upon her sexual desires: "My random access memory wants you to come again." A touch cheap, if you will, but only Monáe can write a pop song that otherwise sticks with endless listenability.
Monáe has always been smart about enlisting a cast of performers who will enhance her vision, and Dirty Computer has got those in spades. As usual, her collaborations are carefully targeted - on Pynk, she partners with Grimes, an artist who also gives nods to eighties artists with a fresh, new color scheme. The feminist-driven track uses a tasteful euphemism as an empowering anthem for the female body; the influence is even more palpable in her use of fluttery synths, not to mention that her vocals delivery is more mellifluous than usual. On Screwed, she embraces the power of sexual energy to combat the damaging effects of heterosexual dominance with the help of Zoë Kravitz. For once, it's refreshing to hear Monáe send a more direct message and not take a detached stance.
And then there's the undying influence of her mentor Prince, whose imprint is indelibly felt through every spongy, perspiring groove. On Make Me Feel, the use of wobbly synths and P-funk-meets-rockabilly stride describe an affectionate encounter as she also breaks any gender rules. She revisits that sound late in the bracing closer, Americans, where she defies the gender pay gap structure with a universal message that gets somewhat lost when she pairs it with observations on race. But Americans is meant to reach, as it critiques every toxic aspect of American culture, both its pervasive traditions and drips of marginal progress. She simply states that she's American, too: "I pledge allegiance to the flag / learned the words from my mom and dad / Cross my heart and I hope to die / with a big old piece of American pie."
Dirty Computer is in many ways a call to arms that defies hypocritical morality in an ever-evolving culture, emphatically expressed and with an air of celebration. It's the full-on pop record that Monáe had been hinting at for years, and though some of her stylistic choices may not age well - especially when she veers into trap territory - she approaches them with a kind of flighty confidence. Her charisma, coupled with her artful and unique touch, positions her on a more commercial field without the slightest compromise. But the real story of Dirty Computer is how Monáe reveals an autobiographical sketch. This might be the last time we hear from Cindi Mayweather, after all.
30 April, 2018 - 04:49 — Juan Edgardo Rodriguez