Music Reviews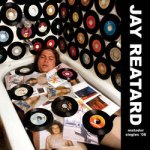 Jay Reatard Matador Singles 08
(Matador)

Nowadays it seems that turning out an album every 18 months or so is enough for some lazy music writer to label you 'prolific'. Jay Reatard is different: a cursory glance at the partial discography on his Wikipedia page confirms that his work-rate justifies the tag. With the Reatards, Lost Sounds, a whole host of other bands and side projects, and now as a solo artist, Jay Reatard has released around thirty singles in the last five years. Kevin Shields he most certainly is not.
Matador Singles 08 is, as the name suggests, a compilation of Reatard's six 7" releases of 2008. This is necessary for two key reasons:
1) The 7 inches were released in increasingly limited runs, a fact reflected by the sums of money they're changing hands for on eBay. Ok, you can buy the digital versions on the Matador site, but if you want a physical copy of these songs this release is the only way forward.
2) Without exception, these tracks are simply mindblowing.
The tracks are arranged chronologically and the only missing track is the Deerhunter version of Reatard's Oh, It's Such A Shame (from the Fluorescent Grey split 7"), which makes sense in a way because, well, it's not Jay Reatard. To compensate, the comp includes the bonus track I'm Watching You.
The fun begins with See/Saw, the electrifying garage-punk blast that kickstarted the 7" series all those months ago. Backed by another propulsive guitar riff, Screaming Hand tells the (autobiographical?) tale of the relationship between a father, his son and the bottle. As the memorable, frantic refrain of "you were my hero" merges into a rumbling chorus of "no, no, no, no..." the unresolved tension is actually palpable. Jay Reatard certainly packs a lot onto one seven inch.
The next four tracks maintaining the impeccably high standards, but the real pay-off arrives with Reatard's cover of Deerhunter's Fluorescent Grey. While I'm not much of a Bradford Cox fan, this track really stood out for me last year (even though I only awarded its parent EP a middling six) and, remarkably, Jay Reatard seems to have recorded an even better version. Deerhunter's original owed its haunting atmosphere to the atmospheric studio swirl of effect-laden guitars; Reatard plays it straight – this almost sounds like a live, one take recording – yet he loses nothing. Indeed, his ghostly vocal and the slightly higher tempo only serve to heighten the song's effect.
Of course, the concept of an artist releasing six 7" singles in six months isn't quite as revolutionary as some have suggested, but a willingness to go against the grain and do things a little differently is one's of Jay Reatard's obvious charms. In interviews I've heard him talk fondly of the freedom of the seven inch format, in particular the way it allows him to record what he wants to at the time, without having to worry about how various songs will sit together thematically. He certainly doesn't need to worry about this compilation: Matador Singles 08 succeeds as an album because songs of this calibre will always sound great together.
29 September, 2008 - 11:58 — David Coleman