Music Reviews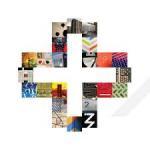 +/- Jumping The Tracks
(Teen Beat)
Buy it from Insound

Some albums come along and lodge themselves in the brain surreptitiously without you even noticing. Jumping The Tracks is one of those albums. I was happily going about my mundane business the other day, humming a tune to myself. I stopped and thought "what is that insistent melody that is running around and around my head? Oh yeah, it's +/-. "
So, who are the gnomically named +/-? They've been around since around 2000, when first formed as a kind of solo venture for James Baluyut, formerly of NYC indie band Versus. That band's signature sound was a combination of indie rock, vocal harmonies and tight instrumentation, and that signature extends into +/-'s set up. They released a string of albums up to 2008's Xs On Your Eyes, after which they entered a recording hiatus, reportedly as band members concentrated on life outside the confines of the music world. Jumping The Tracks was written and recorded in the five years following Xs… and follows much the same template, albeit with a more restrained approach. The earlier albums were hyper and hi-energy affairs whereas Jumping The Tracks is more measured and has a more constructed feel.
Opening track Young Once begins with a tight rhythmic drumbeat and rolling, almost funky bass before a spidery guitar line unfolds. The song's vocals are melancholic, which seems at odds with the physical movement inspired by the instrumental opening, but it develops into something of a mini-epic, with lovely vocal harmonies helping the build up to a climactic peak. It's a great song. Rewrite The Story features intricate polyrhythms and multiple time signatures, showcasing the talents of drummer Chris Deaner. For me, he's the star of this show. But then for me the rhythm's always the thing, whether it's a spectacular drummer or a big rollicking bass. Meanwhile, Running The Distance introduces another dimension to the band's sound, as it ventures into ambient pop with washes of guitar and dreamy textures. No One Can Touch You Now continues in this more thoughtful vein, once again with wonderful vocal harmonies recalling The Beach Boys and a nicely judged horn arrangement.
Overall, Jumping The Tracks is a brilliantly written, performed and produced album, not flawless (a couple of the tracks fall a little flat) but great fun to listen to. It's body music for sure, but it comes from a mind (or minds) of great musical intelligence, great musical skill and intuitive construction. The frenetic activity of the band's earlier albums has been tamed and replaced by songs that get under the skin and live in your mind for days after hearing them. I've come back to this album more than I have any other this year so far, and I have a feeling I will continue to do so for some time. It's a wonderful thing when an album takes you by surprise in this way.
28 February, 2014 - 04:42 — David John Wood