Music Reviews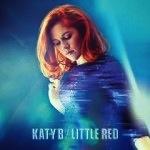 Katy B Little Red
(Rinse)

It's safe to say that Kathleen Brien, commonly known as Katy B, has set the standard pretty high for herself. 2011's On A Mission not only hailed the arrival of one of the UK's most memorable and promising pop singers, it opened the door for a whole cadre of artists whose music revelled in a sophisticated electronic blueprint and brazen R&B roots (hello Jessie Ware and AlunaGeorge). In the three years that passed since the release of her debut, the BRIT school graduate and erstwhile underage raver had the ramifications of success as well as a markedly altered musical landscape to negotiate while developing her sophomore effort. Luckily for her and all of us listeners, Little Red is a triumph.
Charm is hard to find in artists these days, what with the revelatory nature of social media and the current emphasis on instant appeal and widespread hype. But Katy averts her eyes on the album cover, red hair flaming and strobe lights reflecting off the sequins of her dress, looking thoroughly certain that the best place available for dealing with desire, loneliness and confusion is in the midst of a throng of clubbers. ''It's five AM all on my own/ I just need someone to talk with me/ I lost my friends, I check my phone/ Still searching for someone to walk with me'', Katy sings on lead single 5 AM, conjuring up the perfect image of the solitary party-goer. The brooding nature of Little Red's lyrics coupled with the intensity of the beats is in many ways what gives the record its charm. Credit must also be given to Katy B for her capacity to make even the more generic cuts on the album sound genuine. And although it may not sound as groundbreaking as its predecessor, Little Red's introspection-on-the-dancefloor theme is fascinating enough to sustain multiple records.
5 AM and Crying For No Reason dazzle on their own terms as Katy wraps her gusty voice around accessible yet deftly produced hooks. She can alternate between urgent sadness and plaintive ecstasy, either crooning or belting, but she always sounds poised and powerful. On standout track Aaliyah, Katy and an elegantly glum Jessie Ware serve up a minimalist ode to amorous competition that, in its sexy effortlessness, manages to be an indirect homage to the late R&B singer herself. Closing track Still is a notable showcase of Katy's vocal restraint, as she vigorously trills the title word in the chorus with just the right intensity.
Little Red is not without its half-misses, however. The gemstone simile that Sapphire Blue relies upon is a bit too trite, and I Like You begins to try the listener's patience after the second listen. As majestic and sprawling as the production is, the second half of the album blends into a chilly electronic blur, and pleasant yet unremarkable songs such as Everything or Play are easily forgotten by the end of the record.
Yet if anything, albums such as Little Red are testaments to the potential of electronic dance music in the current age. When done right, the best kinds of electronica succeed in marrying a futuristic aesthetic with an edgy, unprocessed flair without sacrificing enjoyability. Those who wish to experience the best of what kids listen to these days would do well to have Katy B at the top of their playlist.
13 February, 2014 - 04:04 — Luiza Lodder