Music Reviews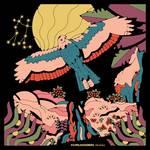 Khruangbin Mordechai
(Dead Oceans)
Buy it from Insound

It doesn't really feel like you're supposed to focus on Khruangbin's music. The Texas psychedelic soul trio writes music that's lovely and casual, the perfect soundtrack to a summer drive, a walk in the park, or a calm afternoon where you spent just enough time outside. It's idyllic and cinematic music, lush and pretty, pleasant enough for any gathering, with just enough texture that it's not boring. It's neither boring nor unforgettable, happily and comfortably waving to the audience between the two, acting as almost a musical shrug. With the band's third full-length project, following a sweet EP with fellow Texan singer Leon Bridges, the band continues doing what they do best. Mordechai is exactly what Khruangbin should have made at this point in their career. At its best, it's a balm for the soul; at its worst, it's background noise.
Now that I say that, it's somewhat hard not to sound negative, particularly when this album is actually rather solid. The surface of this album is expectedly sunny, funky, and soulful, with punchy snare drums, wah-infected guitars, and bass that supplements the guitar work in delicious ways. On the fun lead single, Time (You and I), the group sings about living forever over bouncy instrumentation that features robotically groovy hi-hats, hazy vocals, and looping guitars, giving the song an informally hypnotic vibe. You can almost imagine the grainy 8mm film for the coming of age movie that it'll be on the soundtrack for. With the slower, hesitant One to Remember, winding guitar work and reverb-heavy vocals take center stage. It's one of the few songs on here not to have a carefree feel, letting it sound almost anxious and a little off-putting. Anything that's not laid-back and relaxed is a huge change of pace for Khruangbin. Still, One to Remember isn't too memorable, as it's one of the songs here that falls more towards white noise than something joyful. That's the biggest issue here: the material isn't forgettable, but it doesn't reward deeper listening.
On one of the few great moments on this album, Khruangbin walks towards something new and unusual. With the album's most recent single, titled So We Won't Forget, bongos and drums lay under a more melancholic guitar riff that creates a different energy from a band that's coasted on good vibes and a wonderful combination of sounds from across the world. That single creates an idea of what a more wistful, interesting Khruangbin could sound like. If they are willing to try out different moods and feelings, while still using that winning formula of tones and instruments, they could be a great band. On Mordechai, Khruangbin gets one step closer.
29 June, 2020 - 03:59 — Ethan Gordon