Music Reviews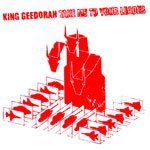 King Geedorah Take Me To Your Leader
(Big Dada)
Buy it from Insound

During this stationery state of hip hop, if the future is now - as the saying goes - then all y'all sleepwalkers need to pick up King Geedorah yesterday. Long time indie phenom MF Doom strikes again under yet another moniker, King Geedorah, derived from the three-headed fire-breathing villain of Godzilla. Also known as Zev Love X of KMD (and best known for his cameo on the 1989 3rd Bass classic The Gas Face), The end result is Take Me to Your Leader, a dizzying array of cut and paste samples, winding violins, booming percussion and clever couplets.
The opener Fazers displays the trademark abstract flow, "Who need a heater, catch em with my bare hands / These same hands that make razors outta beer cans / His own biggest fan, and got a fan base as big as Japan." Wholeheartedly ensconced in his alter ego, Geedorah, refers to his latest reinvention (Doom will have four solo joints under four different monikers by year's end) in third person throughout while sampling Hall and Oates, Lando Calrissian and Foghorn Leghorn to name a few amidst a slew of retro science-fiction flicks. And to further confuse matters, Doom lists himself on two tracks, including the slick-witted pimp strut on Anti-Matter with Mr. Fantastik. Accompanied by a sinister stoner bassline, Doom coolly drops gems like "Getting paid like a biker with the best crank / Spray like a high-rank sniper in the West Bank."
A top-notch crew also make appearances, including up comers Monsta Island Czars (No Snakes Alive) whose recent collaborative release was produced by Doom, and fellow veteran emcee/producer Kurious (who aided Doom's return to wax a few years back on his Fondle Em indie label) who follows suit listing himself as Biolante on Fastlane. I Wonder is an introspective look into the life of a struggling Brooklyn youth authored by MC Hassan Chop.
For fans of the RZA's off-kilter flow and production style, vintage-era KMD and the many personas of space age lunatic Kool Keith, this is the first must-have hip hop album of the year. Can't find it at your local record shop? Go to http://www.hiphopsite.com and pick up Take Me To Your Leader pronto, and pre-order Doom's Viktor Vaughn project while you're there.
27 August, 2003 - 23:00 — Chris Conti