Music Reviews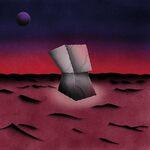 King Krule Space Heavy
(Matador)

While one can expect Archy Marshall to follow a subdued tone with each release, his propensity for taking left turns remains unchanged. At first, entering Space Heavy requires the right headspace to appreciate its deceptively dreary charm. Dark and sonically cavernous, Marshall's fourth release as King Krule fills the innermost spaces of his soul with glacial rhythms that vacillate with tension and release. Offering up a series of vignettes filled with existential musings while revisiting the experiences of fatherhood that first came to light in 2020's Man Alive!, he's beginning to evaluate where he stands as he comes close to turning thirty.
Rattling his distinctive husk of a voice, Marshall works with an equally rough-hewed musical template despite bringing in a speck of optimism. While his elegant guitar reverb brushes against guest singer Raveena Aurora's gentle coo on Seabird, the smooth yet dim-lit jazz of That is My Life, That Is Yours feels like it'll fall apart at any second. He gives a startingly bright performance on Seaforth, a heartfelt love letter to his daughter, playing a jangly guitar arrangement over a drum machine rhythm recalling likeminded troubadour Kurt Vile. Though his soulful approach often affects in mysterious ways, rarely does Marshall write more sentimentally.
These departures aside, Marshall always sounds at his best when he draws the necessary detail to fill an empty canvas. There's not much to Our Vacuum, on which he elicits a strong emotional response with a spare guitar line and the gravity of his voice. Even if he might occasionally add alt-driven riffs or bluesy scales to his repertoire, executed marvelously on Flimsier and the title track, they feel almost supplementary to the disorienting ambiance he plays with. While there's plenty of light on Space Heavy, he does remain grounded, if a little withdrawn, despite the intrusion of reality creeping in on Wednesday Overcast. "A lot has changed/Now a lot means to me," he muses, coming to grips with the person he's become and becoming.

12 June, 2023 - 00:05 — Juan Edgardo Rodriguez