Music Reviews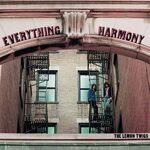 The Lemon Twigs Everything Harmony
(Captured Tracks)

Four albums in, there's no denying the D'Addario brothers' commitment to unearthing the past. Now in their early twenties after starting the Lemon Twigs in their teenage years, the Long Island, New York duo of Brian and Michael D'Addario sound more confident injecting their personality into their '70s-indebted songwriting. In paring down their songs to their barest essentials, they've successfully built a cohesive body of work in a way that their previous attempts at creating conceptual rock operas and intricate baroque rock didn't.
It just didn't sound authentic to them. The brothers were so intent on aping their influences as cleverly as possible that it came off as too scattershot. It's worth noting that they once again attempt to change gears with another overly-specific musical terrain. Everything Harmony taps into '70s soft rock balladry perhaps too firmly, as evidenced by the dramatic, strings-laced What Happens to a Heart. But for every attempt at being melodramatic, they seamlessly contrast them with the tender, harmony-led acoustic serenades of Still It's Not Enough and Corner of My Eye. While most of the album avoids any marked tonal shifts, much to its strength, the duo channels Big Star like they've never been able to pull off before on What You Were Doing and Every Day is the Worst Day of My Life. And while the Jellyfish-recalling jangle pop of Ghost Run Free seems somewhat out of place, it's too good of a track to ignore.
On Everything Harmony, the Lemon Twigs transcend their classic rock influences by sounding very of its time and timeless all at once. And while that might continue to unfairly malign them for evoking a period that doesn't represent them, it's worth remembering that most contemporary music functions with some degree of imitation. Their enthusiasm truly does show. And with tracks as catchy as these, it's pretty clear that the brothers have done their homework through the years and then some.

19 May, 2023 - 00:15 — Juan Edgardo Rodriguez