Music Reviews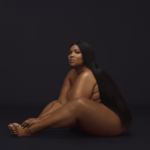 Lizzo Cuz I Love You
(Nice Life/Atlantic)

While Cuz I Love You isn't Lizzo's debut album, the buzz around its release—her first on a major label—certainly gave it that sense of anticipation. Studded with cameos from Missy Elliott and Gucci Mane, the record genre-hops enthusiastically from soul to R&B to hip hop to funk to (perhaps a touch cookie cutter) rock'n'roll. It's an unabashedly good time with a distinct summer vibe, though I get the sense that—fun as these tracks are—many of them will end up relegated to movie and commercial soundtracks, where so many overly polished numbers end up languishing. I guess there's something to be said for her body positive message seeping into the public consciousness with a spoonful of capitalist sugar.
The standout tracks are, entirely predictably, the two singles: Juice, a dancehall funk number that feels plucked from an early '80s Soul Train episode, and Tempo, the raunchy earworm accompanied (and highly influenced) by Missy Elliott. The title track also deserves a mention, both for showing off Lizzo's pipes and for how utterly relatable the coming-of-age sentiment is: "Once upon a time I was a ho/I don't even wanna ho no mo," she croons painfully, hoping to convince her man that she's really in love this time. It's an immature view of what mature love looks like, heartbreaking and hilarious all at once. There should be more tongue-in-cheek love songs, really.
When I read about Lizzo's petulant reaction—and relatively quick pivot—to Pitchfork's perfectly reasonable assessment of her latest release, I laughed at how appropriate it seemed. This isn't the first time she's had to backpedal or otherwise justify herself. There's nothing wrong with Lizzo's so-called "genreless," agenda-forward sound (nor did Pitchfork claim that there was, and I'm not one to side with their opinions as a rule), but it does lack a certain cohesion and maturity. I can't pretend to know what it takes to craft music, least of all in the public eye, as a woman of color and with a political platform to boot. If anybody can figure out how to do that with grace, it's Lizzo, but it's a damn high bar she's set for herself. For all the confidence she radiates, she's got some growing up to do. And if part of maturing means elevating her music to her message, so much the better.
6 May, 2019 - 05:07 — Gabbie Nirenburg