Music Reviews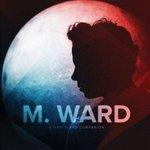 M. Ward A Wasteland Companion
(Merge)

One critique of some of today's artists is, in their obsession to discover something new and progressive, they unwittingly repeat a sound well-explored in another decade. Often you'll hear someone say, "I liked them better when they were called [insert artist whose career has been glorified ex post-facto]." What has made M. Ward's early albums such a success is their perspective on the past as a means to confront the present and future. Such can be seen on M. Ward's Post-War (2006), which uses the post-WWII American climate to portray the likely aftermath of the Iraq War. From Duet for Guitars #2 to Post-War the stylistic influences are selected with sophistication, from Johnny Cash to Django Reinhardt.
M. Ward has always seemed to be content with sitting in the passenger seat for many of his projects. He has performed in the backing band for Bright Eyes, My Morning Jacket, Neko Case, and Cat Power, shared the spotlight with Zooey Deschanel in She & Him, and contributed to the Monsters of Folk supergroup. His 2008 release with She & Him, Volume One, features some of the pop sensibilities M. Ward has showcased in his previous albums, namely his insistence that simplicity is always better. His sharp ear for production has also been utilized, but the music itself falls under the adorkable Deschanel, the iconic star of She & Him. 2010's Volume Two was only slightly more forgettable, and I'm not sure if there were many chestnuts roasting with last year's A Very She & Him Christmas.
Since Deschanel's involvement with M. Ward's career, the breezy jangle-pop of She & Him has begun to creep into M. Ward's own releases. Much of A Wasteland Companion suffers from the unimaginative fluff that plagued 2009's Hold Time. Where then there was a cover of Rave On, now there is a cover of the traditional I Get Ideas; unfortunately, this time around the cover is not nearly as inspired. This is preceded by yet another Daniel Johnston cover in Ward's catalogue, Sweetheart, which is just as easily replaceable. I'm not quite sure where Watch the Show fits into this critique, as its 50s country twang and beat drives the narrator deeper into his neurotic tirade against the network television industry. Perhaps the only moment when M. Ward's interest in 60s jangle-pop succeeds in something more than wasting our time is during lead single Primitive Girl, which at best could pass for a Lovin' Spoonful b-side.
Unfortunately, these lightweight singles create an inconsistent dynamic across the span of the album, which really does some injustice towards songs worth keeping, like Clean Slate, The First Time I Ran Away, and There's a Key. M. Ward's mature retrospect on Clean Slate seems fitting of an album titled A Wasteland Companion, one that could introduce an album about looking back on one's life. And while quite a bit of time is wasted on what seems like a grab at the She & Him appeal, the second half of the album hints at and occasionally showcases Ward's charmingly reserved introspection and muses. Wild Goose is miles above Primitive Girl in emotional weight, yet both deal seem to deal with a similar female figure.
What can be done about this inconsistent mess of an album? Well, one can appreciate M. Ward's undeniable gift for simplistic yet effective songwriting. One can also salvage some of the more acoustic songs for listening sans Deschanel and dystopian tales of television producers. Perhaps in his mission to reconcile modern music with the values of the past, Ward has gotten himself stranded in some wasteland without a companion. Let's hope that he figures out the most suitable companion for the music's sake is not who guests on his album, or who he covers, but Ward himself.
18 April, 2012 - 07:40 — David Hogg