Music Reviews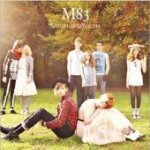 M83 Saturdays = Youth
(Mute)

On the strength of previous experience, early rumours, and reports of an admiring kinship between Anthony Gonzalez and James "Maps" Chapman, it did appear that the fifth M83 album was going to be Loveless to We Can Create's Isn't Anything. Given that so many of the finest fringe releases of recent months have nestled fuzzily under the nu-gaze umbrella (Kyte, Heroes Of Switzerland and the Insect Guide, for examples, would all be household names in a fairer world), you could easily argue that such a release would be both amazingly timely and amazing generally, and, while you'd be right to do so, you'd only be half right to say that Saturdays = Youth is such a record.
But what a half! You, Appearing launches proceedings in extraordinarily teasing style, draping itself expansively across the stereo and showcasing darkly saccharine and compellingly oblique vocals a la Death In Vegas' classic Dirge, but, curiously, undergoes a wild diversion before arriving at Highway Of Endless Dreams, a magnificently narcoleptic fugue that buzzes tenderly, incites chilling post-Cocteaus goosebumps and sets the tone for the marathon of atmospherics that follows it. The closing Midnight Souls Still Remain is relentlessly audacious, an eleven-minute swoon that may stray precious little, chords-wise, but can still render many a grown skewpopophile immobile, but it's Too Late that really impresses, charging off into unexpected territory via almost Air-ish sweet nothingness and a fine endeavour to rescue indie piano from the ignominious mire that the likes of the Hoosiers seem determined to leave it in.
All fabulous stuff, as you might imagine, but in the midst of all that there's something else for which we were wholly unprepared. You see, M83 may have dealt in cinematic soundscapes before, but, on this occasion, they've become alarmingly specific: to all intents and purposes, half of this album could soundtrack the Brat Pack films. You heard. In a way, that's not as strange as it might seem – 1980s synths may be much maligned (in spite of the odd fine case for rescuing vintage technology such as the new Matmos album), but they do a fine job of conjuring up dystopian disfunction, and, such is the level of ambition associated with the era in question, what may have passed as mainstream fodder back then feels positively avant-garde now. There's plenty to enjoy in the way of Euro-styled sex'n'death – Graveyard Girl has all the straightly-played pretension you'd hope for from its title – and, more significantly, Couleurs proves Gonzalez can take his epic aspirations and apply them to more industrial settings, ending up like an offcut from Night Moves-era Killing Joke. Plus, Kim & Jessie actually IS the missing link between Prefab Sprout and Propaganda. And how exciting is that?
Of course, it's not what was anticipated, and, given that the band's previous excursions onto the critical radar have earned them a devoted-if-as-yet-unexpansive following, there may be a sense of missed opportunity among the hardcore. Nonetheless, Saturdays = Youth finds itself in the higher echelons of '08 so far for radically different reasons, and, unpredictedly, it wouldn't be too surprising if M83's decision to avoid making a by-the-numbers album saw those overdue dividends finally reaching them.
3 May, 2008 - 18:14 — Iain Moffat