Music Reviews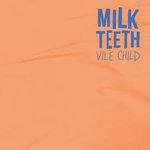 Milk Teeth Vile Child
(Hopeless Records)

The likes of Bully and Dilly Dally made huge impressions last year with exceptional debut LPs of female-fronted grunge-punk, and Milk Teeth's own debut is more than capable of holding its own in such company. The Stroud outfit are quietly (or loudly, for that matter) making a name for themselves as one of the most exciting new acts in the UK right now, and it's easy to see why. Vile Child is an album that plumbs its influences from the best of the nineties grunge bands, but this is a record that is much more than a rehash. Milk Teeth use their influences methodically to paint a high-definition vignette of themselves, and the result is an invigorating blend of ferociousness and quivering intimacy.
Opening track Brickwork brings a lot of what's great about Milk Teeth to the forefront right from the outset. Guitars, drums and vocals all arrive upon pressing play, and after just twenty seconds, Becky Blomfield's sprawling, clean-cut vocal is unceremoniously barged aside by Josh Bannister's hardcore howl. It is worth noting that just weeks before this record was even released, the band announced that Bannister - guitarist, vocalist and founding member - had left the band. It's clear from the opening track that Bannister is a key cog in the sound of Vile Child, and it will be interesting to see how the band move forward without him even at this early stage. His impact on the album is substantial, with his vocals alone providing frenetic, lusty blows to intensify and aggravate the record's ferocity.
Blomfield's vocals take centre-stage on the next four tracks, displaying a striking agility and supreme confidence. In Driveway Birthday, her voice stalks around a traipsing grunge hook with purpose. The speed picks up with Burger Drop and Brain Food before Swear Jar (Again) slows the pace down to a trudging cruise. Blomfield really is impressive, and shows the sort of control and incision associated with one of the masters of her art: Speedy Ortiz's Sadie Dupuis.
The album is not seamless in the slightest, with pace changes and the undulating course of the record subjecting it to spraining shifts, but the songs are strong enough for this to not be a huge issue. The guitar and vocal hooks are unblemished, and the fact that the band have developed their erstwhile influences into such an organic decoction is hugely impressive. Whether Bannister is taking ownership of a hardcore chunk or Blomfield is decorating loud guitars with her slick vocals, Vile Child remains exhilarating.
The albums highest points are evenly spaced out from start to finish, and in its home stretch, the likes of Moon Wanderer and Leona stand out as important moments. The former is governed by a bulky bassline that a fledgling Soundgarden could have manufactured in a Seattle practice room, whilst Leona sees Bannister bawl over a cautious, weighty groove, before Blomfield responds with an intrepid rebuttal in the chorus. Whether the reaction is one of brutality or that of a heart-rending shimmer, the chemistry throughout the record is consummate.
Vile Child is a debut LP that is rife with a resounding honesty and an airtight dexterity. Whether their being laid bare, or being belligerently screamed in your face, the emotions remain overtly compelling. What will happen to their sound following Bannister's departure is up in the air for now, but in the meantime we have an outstanding record to enjoy, and even this early in 2016, we have a debut that will be talked about come the end of it.
8 February, 2016 - 04:11 — Carl Purvis