Music Reviews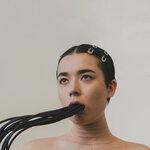 Miss Grit Follow the Cyborg
(Mute)

Trace elements of the sounds of machines slowly working their way into Miss Grit's masterful debut album, Follow The Cyborg. Miss Grit is the solo act of Brooklyn's Margaret Sohn, and the album is guided by their love for the literary and cinematic figure of the title character. The films Ex Machina and Her make for the most well-known jumping-off spots for Sohn's musical explorations.
The mechanical whir of alarm bells creep into the second track, Your Eyes Are Mine, while Sohn's character frets about getting up to speed. "We first met when I was learning," Sohn sings as a nod to the ramp of artificial intelligence. But primarily, Sohn's cyborgs long for human traits of skin and bone. After the ebb and flow of the minor key Nothing's Wrong to the pop-leaning Lain (phone clone), the album shifts via the brief instrumental "powering up" of Buffering to a clamor to breathe on one's own.
From here, things take a darker and more musically muscular turn as the cyborgs in the songs begin to assert their power. The character at the center of the title track vacillates between "I'm a living girl" and "I'm a living boy," but the primary impetus is clear in the desire to become flesh. The song is followed by a Korean language version, with a different melody and the constant pulse of electric sounds powering the song. The album closes with a trio of its most thematic songs, concluding with a co-write with fellow Brooklynite Pearla on Syncing. The song feels like a long-lost outtake from Cat Power's Moon Pix, finding an empathetic thread in the arc from machine to human.
Sohn masterfully handles a crush of guitar and synths while a small batch of guests provide string embellishments, with Stella Mozgawa (Warpaint) playing drums on a few tracks. Primarily recorded at home, the lack of hiss or other background noise shows Sohn's proficiency with her approach as well as the technical advances that machines have brought to music. It's not unlike the endgame played out with a robotic takeover of society or a day in which A.I. could handle all aspects of creating art. But without Sohn's vision to guide the way, a work as complete as Follow The Cyborg couldn't be offered up without the involvement of human hands.
23 February, 2023 - 00:35 — Mark Moody