Music Reviews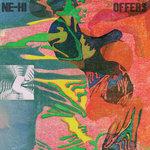 NE-HI Offers
(Grand Jury)
Buy it from Insound

Despite a resurgence in the Midwest's DIY indie scene, NE-HI have so far slipped under the radar. While the band watched fellow statesmen Whitney, Twin Peaks and Hippo Campus find success internationally, their 2014 debut failed to make any significant waves. The self-titled album emerged almost accidentally, a result of recording sessions for a friend's film soundtrack that was ultimately scrapped. NE-HI's slick hooks and laid-back writing made the bona fide summer album immediately captivating to those who stumbled across it, but it was only after the band released a standalone single, Turncoat, in 2015 that it became apparent they had found a following. With Offers, their first album on Grand Jury, the band attempt to move on from that album and create something darker and more mature.
And for the most part, it does work. The highlights of the album are still those tracks that follow a jangly guitar line that the rest of the band works around, but the evident attempts to diversify their catalogue means Offers never becomes tedious. One of those highlights is the opener, Palm of Hand. It's not a particularly complex song on the first listen, revolving around a staccato riff, as the band gradually subsides before returning it back. It is a wholly enjoyable listen. Apt for an opener, it feels like this is just the warm up, a chance to flex their muscles before the meat of the album. The following track, Sister, is faster and has a different tone, but it still feels like an extension of the opener, with the vocals following the guitar's melody. But then, just as feels a bit too safe, it opens up into a wide-open chorus that has evidently been shaped by live performances. The lyrics may not be particularly memorable, but once everything else falls into place, it seems like a worthy trade-off.
While the opening of the album serves as an introduction to the band, it may not do their range justice. NE-HI demonstrate some more variety throughout. They produce one of their darkest sounds yet on the album's title track, although the jangle-pop guitars are never completely removed. Prove echoes some of Parquet Courts' wit and tempo, and Everybody Warned You may be seen as a culmination of their progress so far; it's much more restrained and pensive while still possessing the same charm as the rest of their material.
While their debut came together naturally, having been performed live and in each others' basements, it's an atmosphere that can't necessarily be replicated this time around when it's clear there'll be a much wider audience. On Offers, NE-HI never really commit to a major departure. So while there are glimmers of a new, more refined sound, it's the carefree, guitar pop that still stands out. It may inspire deja vu at times, but it manages to be different enough to constitute a worthy step forward for the band. Maybe the most impressive thing about NE-HI, though, is that they prove there are still interesting avenues within post-punk. And at this stage, that is no mean feat.
20 February, 2017 - 00:49 — Matthew Smith