Music Reviews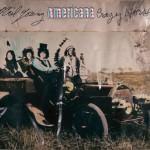 Neil Young Americana
(Reprise)
Buy it from Insound

Depending on who you talk to, Neil Young might be described as a folk-rock icon, a legendary singer-songwriter, the Godfather of Grunge, or a large number of other superlative-genre combinations. What's so astounding is that they're all correct in their own right. Taking on 11 songs that Young says "we know from kindergarten" and turning them into rock songs, Americana makes one wonder if they are looking to add something new to the list. Neil Young is backed by Crazy Horse for the first time in nine years, and the sludgy sound and the reunion make for an ambitious album, one that takes form in two storylines running simultaneously. The first is Neil Young's political statement, aided both by the high levels of distortion in the unique arrangements and in his selective inclusion and exclusion of lyrics. The other is the reunion of Crazy Horse, present in the album's start and after almost every song on the album.
At times, these two stories come together quite well, such as the start of the album, where you hear the feedback of the band plugging in their instruments that reminds us of the presence of Crazy Horse but also prepares us for a guitar-heavy Oh Susannah that excludes most of the references to America's south and all of its original racism. As the band winds down, we hear Young remark that the song has a good, funky groove. Most of the pieces feature a quick bit of conversation after the actual song, from talk about the good ending to about the chords and key changes that were or should have been used. God Save The Queen closes the album, and it initially appears that Young has lost sight of his concept until a segue into "My Country 'tis of Thee" creates a large political statement. The track ends with a children's choir repeating "let freedom ring," and it's clear that one of the country's most well-known anthems lifted its melody from the national anthem of the country from which it was born. Another affecting change is the inclusion of the final verses on Clementine, about kissing Clementine's little sister and then forgetting all about the dead Clementine in the process. Young manipulates lyrics throughout the album to aid his statement, and as it does in these cases, it is unpretentious and effective.
Crazy Horse's presence seeps through every pore of Americana, from the fuzz to the backing vocals. It's a serviceable reminder, but perhaps an unnecessary one. However, it provides a bit of fun and insight into how the band plays together and it keeps things light against a rather sharp political backdrop, preserving the roots of the songs despite the fact that Crazy Horse makes almost every one of them completely their own. In that sense, it also aids the political statement, helping us remember that these are traditional songs that have had verses left out when we learned them or need to have verses left out now depending on the politics of the time. Young has a statement to make, and he makes sure we grasp it even if we think of this as "the reunion album."
Indeed, the political story is more compelling. Although Americana falters on tracks Get A Job, which is simply too obvious, and This Land Is Your Land, a bit too straight-forward in terms of arrangement, the other nine songs subtly state the message through their arrangements and Young's manipulation of lyrics. In addition to the above mentioned lament of Clementine and full-bodied sound of God Save The Queen, Jesus Chariot and Tom Dula are quite remarkable interpretations. Tom Dula in particular, over eight minutes and complete with a determined chant of "Tom Dula" running throughout, becomes a song that you could never have expected to hear. Young and rhythm guitarist Frank Sampedro trade fantastic guitar riffs on Billy Grammer's country hit Travel On, and High Flyin' Bird is positively brooding. You have never heard these songs like they are presented here, and there's a chance you have never heard them better, either.
There may be, understandably, a lot of skepticism in mind before you push play for Americana. Like his contemporaries, Bob Dylan (twice, in '92 and '93) and Bruce Springsteen (We Shall Overcome: The Seeger Sessions in 2006), Neil Young is able to turn the American roots into his own songs, thanks in no small part to one of the greatest backing bands that rock 'n' roll has ever seen. And he was able to do it with a clear political message without ever lacking the fun that Dylan or Springsteen had on their own albums. There's enough overdriven bass and well-timed guitar solos to make you think of Powderfinger and Cinnamon Girl, and these songs are so far from the versions you know that they sound like entirely new songs. So just push play, there's nothing to worry about.
14 June, 2012 - 14:14 — Forrest Cardamenis