Music Reviews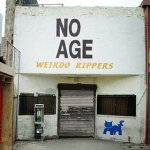 No Age Weirdo Rippers
(Fat Cat)

It's always an added bonus to know a band's background check, and the history of No Age is both brief and decidedly hard to ignore. A duo formed in the wake of Wives, the LA punk trio defunct as of late 2005, their first step was to release five vinyl-only EPs on separate labels. When asked by Vice Magazine to explain their motive, guitarist Randy Randall didn't exactly discredit suspicions of self-indulgence: "We thought it would be funny." Two men working in the name of shits and giggles? Gentlemen, I introduce you to No Age.
Although I assure you purchasing each of the EPs would bear its own rewards, fortunately the boys have culled the highlights and choice-cuts in the form of Weirdo Rippers, their first album proper. Wisely extracting the rollicking punk-rock aesthetic from their alma mater, No Age flesh out the formula and take a stab at more varied tracks, alternating between swirling noise and soothing calm. Not many of the tracks approach three minutes - in fact, the longest is just over four - but each track harbours multiple ideas the duo is intent on riding out until their natural end, eviscerating all sense of structure. Don't write these boys off as unfocused art-rock thrashers just yet; where many bands hint at a few tricks up their sleeve, No Age ably promises all the aces in the deck.
At first glance, the songs appear shapeless and without form, racing through their own spastic fits. The serrated melodies proceed to drown in a sea of their own noise, and like FatCat labelmates The Twilight Sad, their walls of noise guarantee structure and forward intent - No Age have full control over their craft. Every Artist Needs a Tragedy opens the album with a wishy-washy whirlpool; if you were to fall asleep on the shoreline at high tide, this would be your theme music. Kick-started two-thirds of the way through, Artist carries the torch onto Boy Void, starting on the other side of the rhythmic spectrum. Weirdo Rippers is abound with these dynamic couplings, of discord (Loosen This Job) and serenity (Semi-Sorted), somehow marrying the two ideas perfectly. At their shortest, the songs whiz by, taking just over a minute of your time; reverie Sun Spots, smack in the middle of the mid-album foray into shoegazer territory, refuses to get out of bed, reserving to lie and float through its central design.
But in the end, after Escarpment offers little resolution, fading away instead of burning out, No Age becomes none other than two men with noisy dreams and an expansive reserve of ideas with which to draw from. Their sound is a spastic sonic mess, relishing in the raw power it harnesses. Resembling a self-made mixtape more than an official compilation, Weirdo Rippers is, at its core, an album of textural appreciation. Less concerned with songs than rapid fire experiments, No Age weaves together seemingly disparate sonic journeys, propelling the album into a stratosphere that, after a mere 29 minutes, forms a truly transcendent listening experience. You'll never know what hit you.
21 July, 2007 - 09:50 — Brendan Phillips