Music Reviews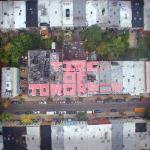 Nothing Tired of Tomorrow
(Relapse)

The circumstances surrounding Philadelphia band Nothing's sophomore album would be enough to sideline most other bands permanently: founder
Domenic
Palermo was the victim of a violent mugging over the summer that left him with a fractured skull, a broken orbital bone, and 19 staples. During his recovery, bassist Nick Bassett's mother died suddenly, and Palermo's father died last November after a tragic freak accident. As if that weren't enough, they originally planned on releasing the album through Collect Records, but decided to terminate their contract due to the controversy surrounding the label's ties to former Turing Pharmaceuticals CEO, Martin
Shkreli
, and returned to Relapse instead. In the end, they managed to hold it together and created some truly beautiful and cathartic music in the process.
Tired of

Tomorrow
is something of a transitional album as it sees their music still rooted mostly in
shoegaze
, but also stretching out further into dream-pop and grunge with songs like
Curse of the Sun,
Eaten By Worms
, and
ACD

(

Abcessive

Compulsive Disorder)
in particular pulling from the overblown melodic crunch of
Mellon Collie
era-Smashing Pumpkins. Nothing recorded with Will Yip (Title Fight, Braid, Balance and Composure, Pity Sex), who scrubs away the griminess of Guilty of Everything in favor of a cleaner, more spacious sound that allows for both a beauty and complexity only hinted at before to shine through. It also marks a step towards embracing a greater pop sensibility. On Everyone Is Happy, a cleanly strummed acoustic brightens up the otherwise hazy atmosphere; the title-track is a gorgeous and gentle piano ballad.
It isn't a completely sterile mix, though: the music still possesses quite a bit of power and emotional depth, and Palermo and Brandon Sett still pile layers of distorted guitars on top of one another to create dense walls of sound. For those who may find themselves a little disappointed with the overall shift, it's worth noting that Guilty of Everything was never an especially aggressive or abrasive record to begin with. It felt that way mostly due to the layers of swirling noise its songs were buried beneath. Palermo's vocals aren't nearly as vaporous, and it's to his benefit that his harmonies are given greater clarity as they help give his words a greater sense of urgency. One of Nothing's greatest strengths has always been the dichotomy between the comforting beauty of their music and the bleakness of his song writing, and that's something that hasn't been lost in transition.
Anxiety, decomposition, and infection are just some of the topics Palermo focuses on throughout the album. ACD (Abcessive Compulsive Disorder) sounds pretty on the surface, but peel away a layer or two and you're left with decayed imagery like "Swallow, corrosive confection/Decay, rotting in your wound/I can, wallow in your filth/I live to." Vertigo Flowers--named for the dizziness he suffered after the mugging--is understandably littered with paranoia and mistrust. For all of the melancholy, it's far from a depressing experience; if anything, it's an oddly uplifting album, one that manages to find a great deal of beauty lurking just beneath the ugliness we sometimes find ourselves confronted by.
28 May, 2016 - 04:32 — Jeremy Monroe