Music Reviews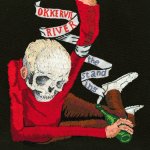 Okkervil River The Stand Ins
(Jagjaguar)

The Stand Ins is Okkervil River's continuation of the concept they brilliantly mined on last year's majestic The Stage Names. The same super-literate storytelling methods and themes of fandom, stardom and everything in between are still intact here as are the bands bright textures and production style. The Stand Ins is a solid achievement cut from the same charming cloth, even if it doesn't crisp in quite the same way The Stage Names did.
The album begins with one of three unnecessary instrumental interludes, all which are under a minute long, but quickly gets underway with the bouncy bassline of Lost Coastlines. A general road feel is present with the familiar clanging guitars as spaghetti-western horns and dramatic strings join in over front man Will Sheff's triumphantly repeated la la la's. Sheff contrasts his usual handle-with-care voice by using a new, lower register for some passages here. Singer Songwriter is the second part of this great Americana-toned opening duo, and any song that namedrops The Kinks, Poe and Artraud is okay by me (even if the references are meant as jabs aimed at snob culture).
This band has two speeds. The first is restless and full of desire, as evidenced in the two aforementioned tracks and the infectious Elvis Costello-like rocker Pop Lie. The second is the slower, sappy lament. For this we have On Tour with Zykos and Starry Stairs, which follows up with the character from last year's Savannah Smiles. Okkervil River is masterful in orchestrating both types of songs and excels when they combine the two forms. Such is the case when the album closer begins humbly only to come crashing down much like it did on The Stage Names, with another thoughtful ode to a forgotten American hero. Then it was poet John Berryman. This time the 1970's glam singer Jobriath is humanized on Bruce Wayne Campbell Interviewed on the Roof of the Chelsea Hotel, 1979.
For some inexplicable reason I've heard the words Neutral Milk Hotel come up often when discussing Okkervil River. I'll probably get shit on by my critic brethren for this, but a more apt likening would be to that of a revved-up version of Counting Crows in their heyday, circa 95. Listening to their unrehearsed, alt-western lilt and front man Will Sheff's elastic singing style and histrionic lyrics, I can't help being reminded of the dread-headed Duritz's middle-America pop. As long as Okkervil's sheen doesn't tarnish in the way the Crows' did, this comparison is a good thing.
This is a "smart" group, that is never "smart-ass." As a self-proclaimed "mid-level band," Okkervil River still remain incredibly self-aware on The Stand Ins. Sheff sings, "And this thing you once did might have dazzled the kids / but the kids once grown up are gonna walk away." I don't think I'll be walking away, even when I do grow up.
28 September, 2008 - 10:25 — Brett Oronzio