Music Reviews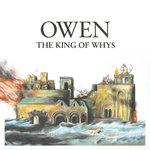 Owen The King of Whys
(Polyvinyl)
Buy it from Insound

Over the last 20 years Mike Kinsella has almost cultivated his own music scene. Most notably as part of Cap'n Jazz, American Football and Joan of Arc, Kinsella has proved to be a consistent performer and songwriter, whatever role he takes on. However, it's Owen where he has focused on most recently, with the solo project allowing him the freedom that isn't possible when in bands. This leads much of his solo work to be introspective and autobiographical, with The King of Whys being no exception.
Kinsella does, however, collaborate much more throughout this album than he has with previous Owen albums. He's brought S. Carey on board to produce the album and also to play on many of the tracks. While Kinsella still remains the lead vocalist, guitarist and drummer, the guests add to a more wholesome sound on this album. It wouldn't be surprising if the decision to work within a group may have been a result of working with American Football again throughout 2014 and 2015, and it pays dividends with this album having a much richer sound than ever before. The rumours of a strained, deteriorating voice throughout that American Football reunion is nowhere to be found on this album, either. If anything, the weariness feels much more like a tool, equipped for heartbreaking effect rather than a weakness.
The album opens with arguably the weakest song on the album, Empty Bottle, which seems to have too much going on in the background with a harmony that often struggles amidst it. From there, though, the album slowly springs into life: The Desperate is reflective and understated, with Kinsella almost muttering, "I aint fooling anyone, least of all me", when trying to hide his disillusionment with his life and relationships. It becomes pretty evident that even if the makeup of this album is different, the content is still going to be overwhelmingly sad.
Settled Down follows and is the track that is most reminiscent of American Football, with a short, quiet introduction making way for Kinsella's soaring "so settle down". The song keeps rising to a peak before breaking down again where he admits he's "torn again between giving in and getting lost for good." It flows without ever feeling abrupt and displays the benefit of working within a group; where past Owen projects may feel too bare, Settled Down sounds much more wholesome. The overarching theme of growing older is evident in the following Lovers Come and Go, while Tourniquet is a strangely beautiful metaphor. A Burning Soul avoids cliché when discussing how his father influenced Kinsella as a parent and his own family. These are personal stories, but there are universal morals, especially when he discusses the ambiguity of his father's character, declaring "he wasn't a saint but he wasn't a bad man" before turning that on himself towards the conclusion.
This album isn't always cheerful, but the instrumentation often instills an air of hope into some of Owen's darkest songs yet. The King of Whys is a gorgeous record, whether it is just Kinsella with an acoustic guitar or accompanied by a string section as he is during the closer Lost. Rather than taking many risks, The King of Whys polishes the most successful aspects of past Owen albums, making it one of the strongest albums in Kinsella's vast discography; the home truths may not make it an enjoyable listen, but it's definitely worthwhile.
29 July, 2016 - 04:50 — Matthew Smith