Music Reviews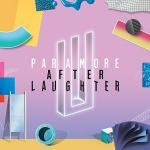 Paramore After Laughter
(WEA/Fueled by Ramen)

For all the success they've had, Paramore can't escape strife among its lineup. In every album cycle since their debut, a band member has quit, with harsh words said and relationships ending. Despite these continuous hardships, Paramore not only soldiers on, but excels. Every release has been better than the last. Their self-titled album moved away from pop-punk and following an anything-goes approach. It paid off.
After Laughter goes one step further. It finds the reconstructed Paramore (Hayley Williams, guitarist Taylor York and returning drummer Zach Farro) embracing an upbeat, New Wave vibe. Don't let the sunny sounds fool you though. Williams' lyrics are filled with reopened wounds, after the departure and legal battle with bassist Jeremy Davis. But along with that hurt is resilience and a determination to dance her demons away.
The most incredible part of this record is how the band adapts to an 80s sound without losing their personality. Hard Times fuses a slick guitar line with Talking Heads style percussion. It's insanely catchy and will make you bop along to its beat. But Williams looks to hide from the world: "All that I want is a hole in the ground/You can tell me when it's alright for me to come out." Rose-Colored Boy has a cheerleader vocal intro that brings up The Go-Gos. But when the chorus hits, it swings back to a heavier "classic" Paramore sound. The mellow Forgiveness sours the guitar melody of Everybody Wants to Rule the World. It's a fitting touch for the group's struggle to restore their friendships.
Williams doesn't only look to outward pressures on her life. There's a lot of self-reflection and explanations about her own personality. Over a funky guitar melody of Caught In The Middle, she sings about aging, looking back at spending nearly half her life in the band. On Fake Happy, which goes from lo-fi acoustics to a full-blown synth romp, she sings about the gulf between her bubbly rock star persona and her internal unhappiness: "You see, it's easy when I'm stomping on a beat/But no one sees me when I crawl back underneat." She deconstructs her own celebrity even further on Idle Worship: "Oh, it's such a long and awful lonely fall/Down from this pedestal that you keep putting me on," she sings over a gritty electronic line. It segues into No Friend, the oddest song the band's ever written. Over a hypnotic, repeating riff, Aaron Weiss of mewithoutYou tumbles through spoken-word poetry. The lines are filled with Paramore references, further disassembling the band's mythology.
Not only does After Laughter regenerate Paramore's sound, but it rejects the cult of personality surrounding the group. By fusing the pop and rock of the 80s to their punk roots, they are now free to move in any direction going forward. Williams's lyrics tackle not only the band turmoil of the past, but also takes on her own flaws and icon status. This album is a brave, bold-faced exorcism. While the wounds may still be fresh, the healing has finally begun.
19 June, 2017 - 04:32 — Joe Marvilli