Music Reviews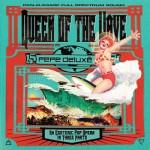 Pepe Deluxé Queen Of The Wave
(Asthmatic Kitty)

Finnish dance trio Pepe Deluxé date back to 1995 but their first album of quirky big beat grooves didn't surface until a few years later in 2000. Their latest - and fifth - record, Queen Of The Wave, is billed as "an esoteric pop opera in three parts". Some lesser records may struggle to live up to such a title, but there's no danger of that here. Instead we are treated to a flamboyant prog pop opera which swaggers to the off-beat sonic excesses of vintage Americana, B-movie soundtracks and Odelay era Beck.
Based on the legendary books on Atlantis "A Dweller on Two Planets" and its sequel "Earth Dwellers Return", Queen Of The Wave does have some sort of story but you'd be hard pushed to recognise it without paying careful attention - and even then the plot line isn't particularly clear. Despite its operatic intentions, this album is basically a record of big, bold grooves; an eclectic collage of psychedelia, dreamy vocals, surf rock and big band noise. These styles play host to myriad of other influences, most of which have their roots in 50s and 60s pop and rock. Go Supersonic is one of several tracks which are graced with vocal harmonies and harpsichord which borrow from the baroque pop of Pet Sounds, while Queenswave has a Morricone-esque feel and flute flourishes which float and flutter over a menacing rhythm section. The first relatively down-tempo moment comes in the form of Temple Of The Unfed Fire which breezes by on the sort of swirling organ line which graced so much 60s psychedelia. It's a kaleidoscopic acid trip but one that is charming, humorous and well executed. The folky ballad Contain Thyself is heavily indebted to Simon and Garfunkel's Scarborough Fair, but that's no bad thing before we head back into Tarantino soundtrack territory with the driving surf guitar and heavy beats of Hesperus Garden.
Queen Of The Wave is an epic, widescreen journey which is busy and bonkers but constantly entertaining. Most of the elements are recycled, but beneath the campy veneer there's a substantial - if sometimes overstuffed - album. It revels in being whimsical and is a non-stop carnival of a record which has its tongue firmly in its cheek. With its kitsch coating, trippy visuals and grab bag of influences, it's sure to be one of the sharpest most fashionably crumpled records at the disco this year. In the end, it's a matter of taste. If you like your pop wacky and off-kilter, there's a great album here waiting for you. If not, Ed Sheeran is over there.
13 February, 2012 - 08:53 — Gary McGinley