Music Reviews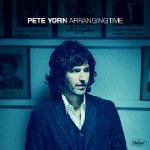 Pete Yorn Arranging Time
(Capitol)

It's been a while since the last proper Pete Yorn album. Yorn had been branching out since his self-titled 2010 release, most notably as one-half of The Olms, which is well and good because any artist worth his salt has to run from himself every now and then. He comes full circle on Arranging Time, not out of a need to revisit old haunts but to blaze the trail clean. R. Walt Vincent, who produced his first two albums, is back behind the control board, so those looking for musicforthemorningafter vibes will find them in the new single, I'm Not The One, where a lo-fi intro opens to full multitrack stereo. Overall, the album's sound design ventures forward with some strong atmospheric touches and a measured use of synths.
Summer Was A Day, the album's opener, is well sculpted. It starts with a somber arpeggiated guitar, and before we think Love have regrouped we're hit in the chest with pulsing bass and beefy drums. Yorn's winning melody is supported by layers of keyboards and vocal harmonies while a Procol Harum organ mimics the main verse. The song captures the elation of preserved memory, and this segues perfectly into Lost Weekend, whose grungy chorus compels us to get "straight out of suburbia". This paean to teen deliverance finds its moody opposite in the piano-laden Shopping Mall, where mature characters are trapped by their own immobility, and here the tones and vocal cadences approach Chris Bell melancholia.
Yorn's music is as its best when opposite currents meet, where the stage opens for the lovelorn balladeer to shake hands with the Replacements fan. For instance, his songcraft shines on Halifax, but even this is enhanced by band dynamics. Lesser artists have built whole careers from less shiny pearls. Screaming At The Setting Sun, with its blend of jangle and soaring harmonies, sounds like the Byrds and the Turtles had got together for a jam at some point in the 60s. In Your Head has the band firing on all cylinders with a fusion of folk and new wave intensity plus Yorn sounding like Tom Petty on uppers.
The throttle eases a bit on She Was Weird, delving into psych territory with echoey percussion and wiggly ambience. Tomorrow also belongs in the brand-new-bag category with a playful use of refurbished 80s sounds. Less daring is Roses, which finds Yorn in the troubadour mode of Back And Fourth but still charms as a winsome portrait of new love. Again, there's a compulsion to explore the other side of the emotional spectrum, which lead us to This Fire, the album's closer, where ominous piano chords act as death knell for an unraveling relationship, the damage too great to fix.
Arranging Time doesn't disappoint. Yorn has chased his muse this long and still has come up with new textures. His songwriting is less labored than recent efforts, with songs like Walking Up sounding as if they've been plucked out of the ether. This collection of moods and moments is one of the year's most engaging listens.
10 March, 2016 - 01:21 — Angel Aguilar