Music Reviews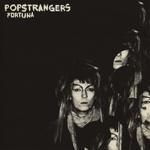 Popstrangers Fortuna
(Carpark)
Buy it from Insound

A mere year following Popstangers' exceptional debut LP, the New Zealand trio have dropped an album that is much more pop and much less strange than its predecessor. 2013's Antipodes was a jangling, droning procession of distorted guitars complete with toxic licks, spiky assaults and catchy compromises that combined a smorgasbord of influences, ultimately creating a superb record that is impossible to pigeonhole. A year on, Fortuna is clearly the work of the same band, studded with evasive melodies and a meticulous balance of despondence and beatitude, but this time it slips into a more focused, sun-warped, psychedelic paradigm. The Australasian indie-rock archetype has generally, in recent times, focused on either the jangle and drone or the sun-warped psych. And in the space of just over a year Popstrangers have accomplished both adeptly, and built on their identity for good measure.
From the first few bars of opening track Sandstorm, you're aware of a switch in focus. Lennon-esque vocals warp over a quavering warble with psychedelica coming to the forefront, and where restraint was not a feature of Antipodes opener Jane, it is a key feature here. Don't Be Afraid follows, and is a definite highlight. Its perennial refrain and careful composition is the perfect foil for frontman Joel Flyger to deliver the line "Don't be afraid, my love", which sounds more and more candid the more its repeated. The execution of lyrical restraint from Flyger throughout Fortuna is exceptional, with a superb sense of spatial and temporal awareness to boot.
The immaculate, meticulous motif that carries Fortuna is not without the manipulation of influences that characterized the debut. In particular, the sprig of Britpop that was sprinkled into the Antipodes melting pot is considerably more concentrated in certain parts of Fortuna. The chorus of Her puts you in mind of Liam Gallagher snarling his own brand of compassion to a rain-soaked crowd, while Distress, and to a certain extent Right Babies, veer towards the punkier side of the genre. These are tracks that are crucial to further hallmarking the band's integrity, showing that the fuzzed, raw blueprint that dominated Antipodes is still there, only this time it is used with much more refrain and efficiency in order to sharpen the hooks and polish the blueprint.
Fortuna is undoubtedly a solid, very well constructed record with very few weak moments, but the more polished finish does mean that in certain parts it can be left slightly exposed when a given track is not exceptional. A few tracks in the mid-section of Fortuna carry the album along nicely, but their respective strengths are eclipsed by the strongest tracks to a degree, and it becomes a victim of its own strength. Highlights such as the king-size hook in the chorus of Country Kills, the dangerously catchy riff that is the foundation of Tonight, and the thought provoking, captivating closer What's on Your Mind? are strong enough in their own right to perhaps set the bar higher than the entirety of the album can expect to reach. Nevertheless, the deceptive chord progressions and meandering, sprawling guitars are drenched in an authentic brand of psychedelica that nod to the kingpins of the field, and are expertly executed throughout Fortuna's course.
In a lot of cases, if a band were to polish up a sound that was untamed and impossible to categorize it would be considered a negative move. In this case, however, the strength melodically of the sunburnt garage rock shows that Popstrangers have proved, in just a little over a year, that they are supremely adept at amalgamating a massive range of influences into a natural sound of their own. It's difficult to avoid making repeated comparisons to Antipodes, but despite the differences in the sounds between the two LPs, the quality and strength of them is the same.
29 May, 2014 - 04:55 — Carl Purvis