Music Reviews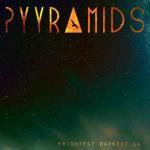 Pyyramids Brightest Darkest Day
(Paracadute)
Buy it from Insound

Pyyramids, an OK Go side project of sorts (featuring the band's own Tim Nordwind on bass and released on the band's own label), seem to have been largely overlooked. And what a shame it is, because from the first run-through I had already decided that they must be a critical darling and I, as always, am just late to the game. If you've skipped over this release because of the comparative quiet surrounding it, I highly suggest you rewind and hit play.
Not since The Faint -- or maybe Death From Above? -- have I heard such a successful combination of brooding heaviness and synthpop. Do You Think You're Enough? on its own really is enough -- if you'll pardon the pun -- to make the entire album. The heavy opening bass and Drea Smith's raspy vocals start off this stellar track that smacks a little of an updated Garbage. The Shirley Manson comparison is apt on Smoke and Mirrors, too, which could easily fade into "I'm only happy when it rains..." if it really wanted to.
Other brooding dance-pop and girl rock influences abound. Paper Doll feels like some glorious melange of Veruca Salt and The Breeders. Meanwhile, Invisible Scream is such a dead ringer for Metric's On a Slow Night, at least in the intro, I nearly had to check my speakers. Not to worry, though -- the certainly unintentional similarity does nothing to impede the song's originality. Though reminiscent of the slow thump of grungier mid-90s girl-fronted outfits, the track moves seamlessly from hard to soft, as indeed most of the album does. In fact, the track feeds into an incredibly eerie piano-backed track called Time, an absolutely ominous number that shows off Pyyramids' range. The plunk of the piano under a hauntingly simple vocal repeating again and again, "We're here just biding time," eventually swells to a less unsettling drum beat. "Is this love or are we wasting time?" Smith echoes this and the music drops as quickly as it rose.
The occasional creepy vocalization aside, make no mistake -- this is a pop record, and a great one at that. Hints of Elastica, Veruca, Republica, even Neko Case (isten to the country-inspired refrain on That Ain't Right) pepper this satisfying debut. The last track, Nothing I Can Say, almost reminds me of No Doubt/Gwen Stefani. Its strong melody would have made for the highest levels of mass appeal, if it didn't brilliantly dissolve into an unintelligible, fuzz- and feedback-heavy fadeout, a perfect close to an album that's equal parts accessible and enigmatic.
30 April, 2013 - 04:19 — Gabbie Nirenburg