Music Reviews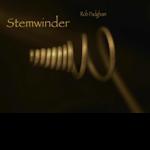 Rob Padgham Stemwinder
(Self-Released)
Buy it from Insound

Scattershot albums are tricky things. They can be wonderfully harebrained images of broken perfection or they can be spread thin, sinking under their own unfocused weight. They're rarely anywhere in between, but somehow Rob Padgham's debut manages to land somewhere in that sparsely inhabited grey area.
Thankfully, it's a lot closer to the upper end than the lower. He keeps himself busy exploring every genre he could pull out of his record collection, creating an album that, while not always great, never gets dull and never gets stuck in a rut. It's constantly changing gears, occasionally losing focus but always gaining it back.
His best moments are the ones leaning toward post-rock, particularly the first two tracks and the closer. His guitar style on these tracks recalls Modest Mouse's Isaac Brock at his least sloppy. A Sincere Sun slowly builds and adds texture, while electronic samples skitter under layered vocals. It's his finest moment, and a style that's definitely worth exploring. Small, textural cues are newly discovered on every listen.
From there the album runs into a more basic indie rock sound and is generally solid. The Waiting follows A Sincere Sun and is another highlight. A very misguided hip-hop exploration infuses Temptation, an otherwise good song ruined by a few rap verses. It's the first time the album really loses focus. Overkill regains it, but the acoustic songs toward the end (Fall from Grace and Blue Sun Rises) lose it again. Fall from Grace is the better of the two songs; Blue Sun Rises is far too stereotypical of a folk song, with lines like "go on down to the corner store/and buy us somethin' sweet." The down-home lyrics just don't sound genuine coming from a man who was using vocal samples about geneticists (A Sincere Sun) a half hour earlier.
His genre hopping is admirable, but it's the albums biggest downfall. It sounds like self-expression overload, though it serves as a good introduction into his musical mind and many of the songs show strong promise. His textured post-rock songs stand up with the best of them. He has the potential to help carry the post-rock torch into the next decade, but, for now, Stemwinder is a mostly solid, enjoyable debut.
29 July, 2010 - 10:54 — Andrew Baer