Music Reviews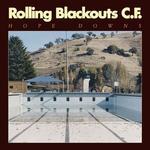 Rolling Blackouts Coastal Fever Hope Downs
(Sub Pop)

Hope Downs is a sprawling iron ore mine located in Western Australia, a remote area that is integral to the country's local and global economy. A cursory glimpse at the site shows an empty vastness, a calculated terrain that brings prosperity on a large scale. It also goes by the most fanciful of terms - hope - that imperceptive expectation that always follows us regardless of whether we choose to believe it. But we all want to succeed in some measure, and Hope Downs is an example of success on the grandest of scales.
For Rolling Blackouts Coastal Fever, though, hope is an unattainable pursuit that hides within the troubled characters that make up their debut LP, Hope Downs. These aren't aspirational pursuits for a brighter future, more so candid, everyday occurrences brought upon by situational forces. As An Air Conditioned Man acutely describes, a discreetly agitated 9 to fiver feels oppressed by the constant tedium of an unrewarding job: "Caught in a necktie / A lifestyle in single file." Shortly, it comes into its cathartic conclusion, where singer Fran Keaney goes on a monologue about how this unnamed man thinks about someone he's long lost.
An Air Conditioned Man, as with many of the tracks on Hope Downs, immediately comes into focus as if the band members have been sprinting for miles. It's urgent, exciting, and doesn't let go throughout its brisk four and a half minutes. The five-piece isn't keen to drawn-out introductions or warm-up guitar dynamics; once the song has begun, we're led to believe they've been playing it for minutes before we're even exposed to it. The circular twin guitars of Talking Straight open up the scene for someone who's maybe overthought things too much and is aware of the fact, drowning in his thoughts: "It's the tyranny of questioning / Ring the diving bell / I'm further down, I'm nearly out." This time it's singer Joe White who's in charge of singing duties, and though his raspy sing-speak is crabbier than Keaney's, they both share a penchant for poetic flourishes.
Which also explains why Rolling Blackouts Coastal Fever build themselves around a well-rounded core, a setup that goes against today's less-is-more indie rock approach. It's an anomaly to see not two, but three singer-guitarists share songwriting duties, and what's more notable is that they all tend to write their own unique parts. The melancholy reverie of Sister's Jeans, which brings to mind Doug Martsch's twinkling sonic textures, handles its rhythmic contours with a delicate touch over a twangy, blue-collar-rock structure. It sounds like they're playing two songs at once.
Even with the differences in songwriting, Hope Downs sounds like a unified partnership between five musicians who've known each other for most of their lives. And there's some truth to that - two of its members are brothers, not to mention that most of them have been writing together in different projects in the local Melbourne, Australia scene for over a decade. Every transition throughout its slim, thirty-five-minute runtime is well-thought out, but it never sounds overly-labored, their songwriting duties shaped in intricate guitar lines and breakneck drum patterns. Sure, the muscular jangle of Time in Common takes a similar course to the previously-mentioned Talking Straight, for instance, but the differences are found in those minor subtleties. They slightly transform past rock tropes with a "new school" kind of approach that will likely inspire younger bands to explore and expand their fretwork.
But when it comes down to it, Hope Downs ultimately succeeds thanks to its impressive quality control. There's not a single bad song on here, only slight variances in tone and luster. A similar comparison could be made to R.E.M.'s groundbreaking debut effort, Murmur, and though it won't have the same impact, the album does share that same meticulous rendering of ringing guitars. From the rich arpeggios of Cappuccino City to the heartland rock-meets-new wave gloss of Exclusive Grave, the band's rhythmic interplay retains an equilibrium that gives the songs a rustic and welcoming atmosphere. The lax, jangle-laden How Long? is perhaps the album's equivalent to We Walk, but when compared together, at least it has a chorus that sticks.
But what ultimately gives Hope Downs its character is how it settles into settings both familiar and exotic. There's the reference to the rural town of Bellarine - which comes across as the most exciting fishing retreat put into any record - though it expresses all-too-familiar feelings of escapism and discontent. And then there's Mainland, where Russo channels his inner D.H. Lawrence as he ruminates about ancestry and privilege on a remote Sicilian island. Rolling Blackouts Coastal Fever leave enough ambiguities within their literary and personal accounts, and though the songs on Hope Downs are instantly serviceable, they do acquire more depth the more you read into them. The destinations they trace may be unknown, but paths they take are quintessentially human. [Believe the Hype]
14 June, 2018 - 09:00 — Juan Edgardo Rodriguez