Music Reviews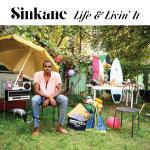 Sinkane Life & Livin' It
(City Slang)

In a climate where there's an increasingly growing amount of tension over borders, boundaries of all kinds, and even walls, the music of
Sinkane
feels welcome, more than ever. He crafts the kind of music that spans the globe and ties together and celebrates cultural diversity from regions all over. The London-born Sudanese multi-instrumentalist Ahmed
Gallab
has worked with everything from Sudanese pop and
Krautrock
to
70s
funk, free jazz, and global indie; his new album,
Life &

Lovin

' It
, sees him blending more strands of sub-Saharan pop and
krautrock
with
shoegaze
, afro-rock, and
electronica
into a funky mix. The experience can be likened to spending the whole weekend listening to world-music programs on some hip college radio station.
What makes it all work, though, is how
Gallab's
broad range has grown more focused over time in its scope than it has been on past efforts. Everything here blends seamlessly and retains its own sense of identity at the same time. It doesn't hurt either that he spent quite a bit of time on the road with his band leading up to the recordin
g of Life &

Lovin

' It
, playing 166 shows in 20 countries. The result is a tighter and more collaborative sounding effort, and it shows throughout the album from the taught disco-funk of
Telephone
to the sunny and joyous brass-driven lead single
U'huh
.
The basic tracking was all played live, giving the music a more immediate feel. The only real gripe is that though the production is polished, crisp, and tight, it sometimes prevents the album from cutting a little more loose. A minor gripe, though, and one that doesn't do anything to diminish the overall experience.
This is uplifting music made for especially trying times and Life & Livin' It is littered with positivity. On U'huh, for example, Gallab repeats the refrain, "We're all gonna be alright/Kulu shi tamaam", an Arabic phrase meaning "Everything is great!". And on The Way, he reassures us that "There's a road inside of us/we need maps made of love/the truth lies in each of us/we need signs we can trust." What makes it work is the fact that it doesn't give into escapism. Instead, it feels more like a statement of purpose in the face of the unknown, a spirited declaration that, despite our struggles, we're somehow gonna be alright.
Even when he sings "I lost my way/I lost my faith" on Passenger, a song about reclaiming independence, those words feel relatable and even reassuring to those of us who currently feel as if our lives and the world around us are both spiraling downward. But to politicize an album like this would be to miss the point. Life & Livin' It confronts the struggles and conflicts of our current times, but does so without giving in to cheap sloganeering and posturing, focusing instead on what really matters overall: the human condition and finding hope even in the seemingly most hopeless of times.
10 February, 2017 - 04:57 — Jeremy Monroe