Music Reviews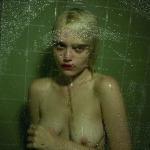 Sky Ferreira Night Time, My Time
(Capitol Records)

The cover art for Sky Ferreira's Night Time, My Time is unconventional to say the least. Shot by punk rock auteur of cinema, Gasper Noe, its shower scene is both unsettling and confrontational. Despite the absence of clothing, it's not a sexual image; it's more ominous than inviting. Even in the wake of Miley Cyrus' recent antics, it's a bold move for a debut album cover, but this isn't a run-of-the-mill pop album. Initially signed as a possible heir to Britney Spears at the age of 15, it's been a long and rocky road to this point for Sky Ferreira. Save for a couple of EPs - 2011's As If! and 2012's Ghost - a multitude of false starts and changes of label and management left her career in limbo until the Instagram-filtered glow of Everything Is Embarrassing became an unexpected blogosphere hit late last year. That song is conspicuous by its absence here. Instead, the album builds on the nonchalant indie-rock of Red Lips and the rugged electro-glam of Lost In My Bedroom from her Ghost EP.
Night Time, My Time has arrived fully formed and bristling with personality. Its title comes from a piece of Laura Palmer's dialogue in Twin Peaks: Fire Walk With Me, and it's a wonderful, unlikely product: a pop album which dares to veer into classic rock territory - and pulls it off. It's an intimate and relatively raw album, from the candid, personal lyrics to the image of a broken girl on the cover. Production comes courtesy of Ariel Rechtshaid (Vampire Weekend, Charli XCX, Usher) and Justin Raisen, who give the album a sense of dressed-down glamour that's rough around the edges - this fits perfectly with Sky's grungey eccentricity. In some ways this is the rocky American counterpart to Charli XCX's True Romance; both feature production by Rechstaid/Raisen and spotlight young female artists who blend a hipster aesthetic with ultra-pop hooks.
Boys is a blistering opener; a high-energy youth anthem that has the new wave strut of early Kim Wilde. Lead single, You're Not The One (complete with leather-and-lights video) is a blistering kiss-off and I Will has the propulsive energy of Blondie at their peak. Not every song rocks out, though. Love In Stereo is more typical of Sky's synthpop beginnings and sounds like a lost classic from the soundtrack of an 80's feel-good movie. None of these songs overstay their welcome and many of them hark back to the short, sharp thrill of the classic pop single. Random mood-pieces like Omanko and Kristine slot well into the overall track listing despite their oddball nature. They're not as impressive as some of the other tracks, but the album wouldn't be quite the same without their ramshackle quirkiness.
The record naturally gravitates towards art rock, new wave and grunge, so you get the impression that this is Sky Ferreira's true niche, but when her indie and pop ambitions meet, the results are rarely bettered. As this beguiling album closes with the Lynchian murk of the title track, the sense of witnessing the birth of a star is palpable. Sky's after-dark storytelling is the perfect antidote to the over-thought and predictable posturing that's become the modus operandi for some of the other pop girls. Without exaggeration, this record trumps the empty polish of Prism, the patchiness of Artpop, and the clunky media-courting of Bangerz. By drawing on atypical influences and wearing her disillusioned heart on her sleeve, Sky Ferreira has made the pop album of the year.
18 November, 2013 - 14:49 — Gary McGinley