Music Reviews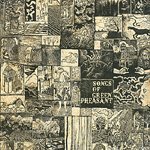 Songs Of Green Pheasant Songs Of Green Pheasant
(Fat Cat)
Buy it from Insound

Songs of Green Pheasant is the work of Duncan Sumpner, a 30-year-old artist, teacher and musician from Sheffield. There's a lengthy saga around his emergence on FatCat records; an early demo caught the ear of listeners but then Sumpner disappeared briefly behind mysterious email addresses and it was two years before the label finally tracked him down. The recordings included on this release date from summer 2002 and were set down on a 4-track cassette recorder at home on the edge of the Peak District. The ethos is close to that of the young Finnish singer-songwriter Drowsy, another home-recorder with a strong sense of individuality and faith in his own compositional abilities.
Early versions of this album had been digitally compressed in an attempt to reduce the tape fuzz and hiss stemming from the 4-track recording; as a result they gave the impression off being surrounded by fog, and heard at a distance. The uncompressed masters, however, as included here, while by no means hi-fidelity, are a clear document of Sumpner's talents. The feel throughout is understated, thoughtful and pastoral. There's a folksy feel, but this is not a folk album, talking in as it does literary influences (the track Knulp shares its title with a novel by Herman Hesse), pop sensibilities of the likes of Art Garfunkel, early shoegazing à la Galaxie 500 and drone experimentalists such as Flying Saucer Attack. Songs deal with love and death through opaque yet suggestive natural symbols and references.
Melancholy, sonically clever - there are some intelligent percussion tricks lurking in the background throughout - Songs... only problem is an excess of understatement bordering on musical timidity. Sumpter is clearly not a pushy fellow, and Mr Nice Guy seldom gets the girl. At times, for all its pleasant warmth, this album fades too easily into the background.
9 August, 2005 - 23:00 — Ben Bollig