Music Reviews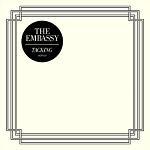 The Embassy Tacking
(Service)

In the past there were very few reasons to get excited about a delayed UK release date. I'm sure many of you can recall paying well over the odds for those exotic-looking shrink wrapped import CDs. I know I do. In the digital age, however, such hold-ups have ceased to be a genuine problem. Regardless of whether a record is officially 'out' in our territory, we can purchase the MP3s from a variety of sources, listen to it on Spotify, or just download a torrent and attempt to justify that momentary flash of guilt with a grumble about availability and a hollow promise to buy it on vinyl when that release date finally arrives. Be honest: you never get round to it, do you?
If by any chance you have an illegal copy of The Embassy's Tacking on your iPod, then I'm afraid the time has come to make good on your word. Even three years late is better than never and this Gothenburg band certainly deserves some love. 2002's Futile Crimes served as the blueprint for the city's Balearic electronic pop scene of the mid-to-late 00s, and while bands like The Tough Alliance, Studio and Air France have deservedly thrived, the architects of this sound remain relatively unknown outside their homeland. This must change.
Tacking isn't the first Embassy record I'd direct a newcomers towards – that would be the landmark debut, Futile Crimes – but it is nevertheless a great showcase of the duo's talents.
At times Tacking sounds like the work of a less abrasive Tough Alliance (the gorgeous It Pays to Belong is a good example), but The Embassy are also capable of exploring darker territory. The ominous synths and insistent bassline of opening track Some Indulgence recall gloomy 80s fixtures like The Cure and early period New Order, while Lurking (With a Distance) just sounds sinister from start to finish, especially the rush of synthesiser that comes in at 2 minutes 16 seconds.
Like previous albums by The Tough Alliance, Air France, Boat Club, Studio, and a myriad of others peddling Balearic-inspired synth-pop, Tacking is inevitably going to be tagged as a summer record. I certainly appreciate how perfect this would sound as the soundtrack to a drunken barbeque or even beach party, but I'm in dreary old Sheffield and you know what? Tacking still sounds pretty great to me.
5 August, 2009 - 19:46 — David Coleman