Music Reviews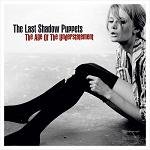 The Last Shadow Puppets The Age Of The Understatement
(Domino)

What a difference a year makes. 12 months on from my scathing attack on the Arctic Monkeys' second album, Favourite Worst Nightmare, I find myself in a rather unusual position, sitting down to write a glowing review of an Alex Turner-penned album. It's a surprise, yes, but not an altogether unpleasant one. Two 4/10 reviews might suggest otherwise, but I can assure you that this site doesn't have a vendetta against Turner and his band. We've just been unimpressed by their work so far.
But this isn't an Arctic Monkeys review. The Last Shadow Puppets is a collaboration between Turner and Miles Kane of Liverpool three-piece The Rascals. The two forged a strong friendship when Kane's former outfit the Little Flames (no, me neither) toured with the Monkeys a few years back, and this project was clearly born of a mutual love of 60s pop, Bowie and classic singer-songwriters such as Scott Walker (circa early solo career), whose influence can be heard throughout The Age of the Understatement.
UK readers will have probably heard lead single The Age of the Understatement already. The track, which opens the album with a bang, is a cracking advertisement for The Last Shadow Puppets. Listening to its dramatic strings and galloping rhythm section you can't help but think of riotous Westerns or the better James Bond films. Indeed, it would make a cracking Bond theme and the song's video even has a Russian espionage theme to it.
Elsewhere, there are highlights aplenty. Standing Next To Me is a great take on orchestral 60s pop that would sit happily alongside anything from Walker's 1969 classic Scott 4. Separate and Ever Deadly is more menacing, with military drums and plenty of emphatic pauses; think The Coral, but much, much better. The Time Has Come Again provides a surprisingly tender finale, easily eclipsing any of the slower numbers in the Monkeys' catalogue. It's a simple enough song, with Turner's reverb-laden vocal floating dreamily over a lush acoustic guitar and ambient strings, but it's powerful stuff and arguably the album's finest moment.
Its critics have suggested that this album is a futile exercise, the work of two men in their early twenties pulling out all the stops (a polished production job, lavish strings courtesy of the London Metropolitan Orchestra) to re-create the sound of an era they were never alive to experience in the first place. It's a valid observation but I'm struggling to identify the problem with it. Besides, surely the same criticism could be levelled at any of the major players in the UK's alarmingly congested (and incredibly dull) post-punk revival scene? Turner and Kane might not be riding the zeitgeist, but how many of today's artists can confidently claim to be breaking new ground anyway? These two musicians have crafted a handful of great songs and set them to a rich, orchestral backdrop that doesn't sound in the least bit tacky or pretentious. The Age of the Understatement might have been conceived as a tribute to a beloved era in music but thanks to the industry, enthusiasm and talent of Alex Turner and Miles Kane it's become something much more interesting than that: a great record in its own right.
4 May, 2008 - 20:57 — David Coleman