Music Reviews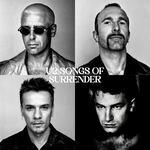 U2 Songs of Surrender
(Universal Music/Island)

When U2 announced Songs of Surrender, their reimagining of 40 tracks from throughout their career, an oft-repeated exchange they had with Bob Dylan started to resurface. As The Edge puts it, "I once said to Bob Dylan, 'People are going to be playing your songs for thousands of years.' He said, 'Man, they're going to be listening to your songs too. It's just no one's going to know how to play them.'"
This line has stuck with the band for some time, leading to a near-obsession with writing songs you can play on an acoustic guitar. The desire to strip things back, along with the release of Bono's great memoir and free time during the COVID-19 lockdown, is behind Songs of Surrender. It's an effort by U2 to show how much they can transform their tunes, from massive hits to lesser-known material. The results are decidedly mixed.
This album runs into the same problems that latter-day U2 often exhibits: shying away from their more experimental instincts and terrible single choices. U2 previewed Songs of Surrender with fairly ponderous remakes of three of their best-known songs: Pride (In the Name of Love), With or Without You, and One. This is a surefire way to make people give a strong side-eye to the whole project.
That remains true throughout the tracklist. Most of the group's best-known songs fare the worst here. They frequently fail to turn the originals' majestic sonic soundscapes into something equally appealing. For example, sluggish ASMR synths serve Where the Streets Have No Name poorly. Bono's rewrites of some of the lyrics to classic songs like Bad or Walk On are also often misses. These new lyrics are unnecessary and sometimes replace impressionistic poetry with an essay. But then he leaves the lyrics for dreck like Get Out of Your Own Way as is? Did we really need to hear that "Lincoln's ghost" line again? The new chorus for The Miracle (Of Joey Ramone) is a big improvement though.
In other cases, the band's lack of ambition detracts from the appeal of these revamps. Ordinary Love and Song for Someone, for example, are close enough to the originals that you wonder why they bothered. Other tracks like Stuck in a Moment You Can't Get Out Of or Every Breaking Wave are great, but sound exactly like previously-released acoustic versions.
While many songs make for good curiosities – like the guitar-and-cello duel of Vertigo, the horn-swept Red Hill Mining Town, or the piano-heavy City of Blinding Lights– your mileage may vary on their appeal. They could be good for a playlist, but could also be one-and-done listens.
Despite the flaws, there are vibrant successes that find the potential of what Songs of Surrender could've been. It's in these moments where Edge appears most inspired and Bono brings in his strongest performances, or both. Invisible breathes wonderfully with acoustic strums, keys, and the ringing tones of a hammered dulcimer, feeling like a warm jam session in a small-town pub during a winter storm. The Fly is all dusty guitar chords and sultry vibes stalking the desert at dusk. If God Will Send His Angels is beautifully arranged around a piano melody and a vocal from Bono that bolsters the original's crisis of faith with a deep-seated weariness. 11 O'Clock Tick Tock has similarly weathered vocals, a great fit with its chiming melancholy.
Hearing Edge take over lead duties on a few songs is also welcome. Desire leans into acid-blues with a throbbing bass, handclaps, earthy acoustics, and a thrillingly desperate falsetto lead. Meanwhile, centering Two Hearts Beat As One around a jumpy Wurlitzer electronic piano riff is an inspired choice.
U2's songs certainly are malleable. They're also not as impossible to play as Dylan suggested. But the biggest issue with Songs of Surrender is that U2 often fail to be malleable enough to truly stretch their wings and radically reshape these tracks. They too often, to their detriment, play it safe. Hopefully, with this release, U2 will see the breadth and depth of their catalog in these 40 tunes laid side-by-side and realize they have nothing to worry about. Their legacy is secure and they should go into their next studio album with the confidence to not only surprise us, but to surprise themselves.
22 March, 2023 - 23:54 — Joe Marvilli