Music Reviews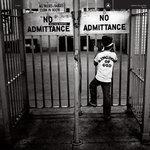 Uniform The Long Walk
(Sacred Bones)

Uniform attempt to make a visceral connection with their listeners on The Long Walk. Part myth and part autobiography, the New York City duo's third effort focuses on the virtues and punishments derived from capitalism, a concept that vocalist Michael Berdan also ascribes to his formative years as an altar boy. Time has allowed Berdan to pause and reflect, to remove himself from the ugliness of organized religion without renouncing the goodness that his faith also provides to many people.
Religion has always manifested quite strikingly within Uniform's uncompromising neo-industrial arrangements. The punishing Inhuman Condition displays that anger through highly amplified abandon, where Berdan battles against the hypocrisy of those who preach their misguided set of principles. It's an opportunity for Berdan, alongside instrumentalist Ben Greenberg, to express their deepest, most pervasive attitudes with no apologies. The Long Walk sounds grubby and decrepit from beginning to end - and every corridor they walk past is just as dark - as if they're opposing any moral dualities that may peak into their violent outbursts.
Whereas 2017's Wake in Fright emphasized the use of electronic synths, The Long Walk embraces more of a raw, unfiltered spontaneity. Smeared in a trebly, junkyard production style, Greenberg and Berdan put forth more of their metal influences in the heavily palm-muted repetition of Transubstantiation. Headless Eyes also feeds from Berdan's aggressive cynicism with hardly a distinguishable melody in sight - and even a mid-section that sounds like it's about to implode at any second - before a tuneless, corrosive guitar kicks back into high gear.
Uniform are certainly simplifying things on The Long Walk, and as such, it ends up completely sucking out the duo's creative energy. A large portion of the album sounds like one monotonous dredge, where Berdan's frantic bellowing practically usurps every single element that made Wake in Fright such a revelation. Berdan does tap into a powerful subject matter - an exercise in looking at the past to improve his moral character - except that he juxtaposes it with stifling, and undercooked, sheets of noise. It's a step back for a duo who were inching closer toward their definitive statement.
20 August, 2018 - 04:10 — Juan Edgardo Rodriguez