Music Reviews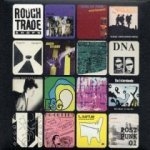 Various Artists (Rough Trade) Rough Trade Shops: Post Punk 01
(Mute)
Buy it from Insound

Three years ago, this compilation would never have seen the light of day, but it seems that we are now far enough away from the early eighties to appreciate its dour charms. Whilst punk never really ceased to be an influence and new-wave spawned a steady stream of hapless imitators throughout the nineties, the sheer ugliness of post-punk seemed to insure it against commercial exhumation. Like In-Yer-Face theatre and Thatcher-baiting comedy, it always seemed to be condemned to fade in obscurity because of its overwhelming relevance to a particularly grim era in Britain's history.
Now, with the recent resurgence in cheap, dirty pop and electro-punk, Mute have chosen to release a 44-track re-evaluation, cannily throwing into relief the threads that run through to the present day. Thus, The Rapture, The Rogers Sisters and Chicks on Speed find a place alongside such notable nobodies as UK Decay and the charmingly named Prats. Equally shrewd (or perhaps just plain tight) is their decision to provide No Ripcord with a 12-track album sampler to review, which I assume features a choice selection of the album's better moments. However, on looking at the track listing in full, there are plenty more joys to be found and so I'll resist the petulant urge to divide my rating of it by four.
In the late 70s/early 80s, Britain was unglamorous, dirty, and encased in concrete. Punk had already passed out in someone else's vomit, and the Situationist pranks and sense of liberation had given way to a hopelessness that only money (or, more precisely, a lack of it) can engender. However, the cynicism of the age translated into a mess of caustic, sharp-edged and uncompromising music, and Post Punk 01 is a long-overdue case for the defence. Gang of Four start proceedings with I Found That Essence Rare, one of the more durable tracks from their Entertainment album, which features Andy Gill's abrasive guitar style and the kind of abstract, image-heavy politicising that Wire do so much better. Still, it's a powerful opener, and a persuasive reminder as to why Messrs Albini, Cobain and Tad were so enthralled by the group.
The requirement for inclusion in the genre that is garnered from listening to Post Punk 01 is, generally, that at least one of the following must be present: lots of shouting; po-faced political commentary; harsh and starkly lit depictions of modern life (as was); ill-advised forays into reggae (which only PiL ever really got right, to any great degree) and a heavy dose of white boy funk. Bush Tetra turn in an admirable stab (or slap) at the latter on their Talking Heads-styled paean to suburban alienation Too Many Creeps, and Maximum Joy are at it again on the excellent punk-funk hybrid Stretch (where we are transported back to a time when saxophone solos were positively welcomed in alternative music - no, really). The Slits provide a welcome release from poker-faced polemics with the playful Shoplifting (and for new converts, Ari Up will be in London soon for some Slits dates), but, if my memory serves me well, she's also the vocalist for New Age Steppers. Basically, there is nothing worse than a British person singing in a Jamaican accent, especially to a backdrop of whiter-than-white cod-reggae: Sting, Ali Campbell... you just can't do it without sounding like a wanker, and New Age Steppers, whilst being marginally better than either the tantric sex guru or the potato-headed gimp from Brum, are still arse-clenchingly awful. Sticking to the root influences (Scratch, King Tubby, Prince Far-I etc) is well advised.
'Post punk' is about as all-encompassing a term as is possible; thus, the unhinged A-level sociology rant of The Pop Group's winning We Are All Prostitutes is closely followed by the more quietly experimental highlight Skank Bloc Bologna, wherein Scritti Politti become unwilling precursors to the more pedestrian, epic pop that was to follow in their wake. Les Georges Leningrad are possibly the best example yet of the thin line between idiocy and inspiration, whilst the undoubted highlight comes, expectedly, with Wire's Ex Lion Tamer. Anyone who would consider buying Post Punk 01 must surely own at least Pink Flag and Chairs Missing, but for those uninitiated with the art school four-piece (and there can't be many, surely), they are without any doubt the most courageously innovative of all the bands featured here. Their first three albums sound nothing like each other at all, they point-blank refused to play anything but new material at gigs, and their songs range from the catchiest pop to the most condensed blasts of energy ever to be captured on tape. Other highlights that aren't on the 12-song sampler are The Fall's early classic Industrial Estate, The Flying Lizards' unexpectedly enjoyable cover of Sex Machine and messianic offerings from The Rapture, PiL, Life Without Buildings, bIG fLAME and Young Marble Giants, one of the greatest bands to ever evade success so markedly (their Colossal Youth album towers over virtually any album released at the time). There's plenty of other songs on here that I haven't heard: maybe they're all useless, but potentially (and I'd put money on it) there's at least another handful of great tunes waiting to be unearthed and wasted on the arch London glitterati. And even if the rest of the album were, by some cruel twist of fate, to contain nothing else but yodelling, who cares? Fourteen quid for at least 17 great tracks is far from robbery. I await the inevitable C86 revival with baited breath...
2 August, 2003 - 23:00 — Pat Harte